We offer generous discounts if you order 2 or more 500g packs of coffee. This can be a mix of different coffees (excludes Gold Collection coffees).
Click here to find out more.
Peruvian SHG Dark Roasted
The Chanchamayo Valley lies about 200 miles east of Lima, high in the Andes. Coffee from this region has the best reputation amongst Peruvian coffees, and this coffee is no exception! Chanchamayo produces approximately 40% of Peru's total coffee production, and this coffee is grown using a typical small-holder model with each small-holder producing less than a tonne of coffee per harvest. Although Chanchamayo is a valley, it is still 1350 metres plus above sea level so this coffee is classed as SHG (Strictly High Grown) with the beans grown at 1350 metres or above.
The Arabica beans grown in Chanchamayo are generally Caturra, Typica, Pache and Bourbon varietals. At these higher altitudes the beans tend to be shade-grown, which adds density to the bean and gives a more complex and pleasing flavour to the cup because it has grown more slowly. Although this coffee is not certified as organic, the fact that it is grown at high altitude and under tree canopies means that the majority of the beans are actually grown without the use of any pesticides and fertilisers, so are organic by default. Instead traditional practises are used that have a lower environmental impact.
The cup profile is Citrus, Chocolate and Roasted Peanuts. A complex, smooth, well balanced coffee. Dark Roasted for use in a Bean-to-Cup Machine, Espresso or Stove Top Pot brewing.
Click here to help decide which grind is best for you.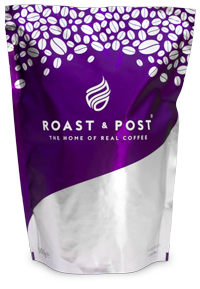 The Roast & Post Coffee Co. ®
Registered Office
7 Regent Street
Kingswood
Bristol
BS15 8JX
t. 01803 605993
e. sales@roastandpost.com
Registered in England No. 4387161.
Registered Office As Above
VAT Reg. No: GB 791 3864 93