We offer generous discounts if you order 2 or more 500g packs of coffee. This can be a mix of different coffees (excludes Gold Collection coffees).
Click here to find out more.
Decaffeinated Colombian Fairtrade
The Colombian coffee is decaffeinated by the solvent method. Most consumers drink this coffee because lack of caffeine can improve sleep and eliminate palpilations in some people. The usual content of approx 1.5% caffeine is reduced to below 0.1%.
Although the taste on the light roast can produce more acidity than standard coffee, the darker roast produces a flavour more akin to a regular Colombian. Good body with distinctive flavour. Can also be dark roasted to use as an espresso coffee.
Click here to help decide which grind is best for you.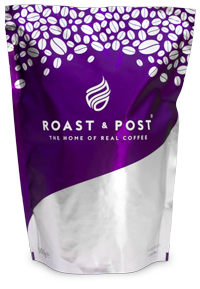 The Roast & Post Coffee Co. ®
Registered Office
7 Regent Street
Kingswood
Bristol
BS15 8JX
t. 01803 605993
e. sales@roastandpost.com
Registered in England No. 4387161.
Registered Office As Above
VAT Reg. No: GB 791 3864 93