We offer generous discounts if you order 2 or more 500g packs of coffee. This can be a mix of different coffees (excludes Gold Collection coffees).
Click here to find out more.
Colombian Supremo - NEW
The name of this coffee, Colombian Supremo, refers to the size of the bean as it is the largest size of coffee beans from Colombia. Colombian Supremo and Colombian Excelso beans could be harvested from the same tree and at the same time, but then later they are sorted and separated into Supremo and Excelso by the size of the bean, Supremo being the larger. Supremo beans are also of slightly higher quality as they are processed in a way that allows for very few defects.
Our current batch of Colombian Supremo comes from Huila, a region which tends to produce fruity, complex coffees with good body.
Colombian Supremo is a smooth and well balanced coffee. Its flavour can be characterised as Chocolate and Caramel with Fruity Sweet notes and a clean aftertaste with a medium body. Medium roasted, this coffee is best brewed as a Filter or Cafetiere coffee. We would NOT recommend this as an Espresso or to be brewed used a Bean to Cup Machine
Click here to help decide which grind is best for you.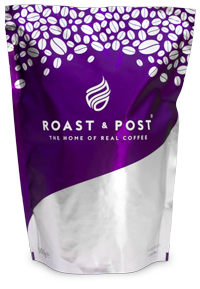 The Roast & Post Coffee Co. ®
Registered Office
7 Regent Street
Kingswood
Bristol
BS15 8JX
t. 01803 605993
e. sales@roastandpost.com
Registered in England No. 4387161.
Registered Office As Above
VAT Reg. No: GB 791 3864 93