Colombian Organic & Fairtrade DARK ROASTED
A fresh and fruity coffee from South America grown in the Sierra Nevada district. This coffee is washed in fresh water and prepared using traditional methods. The dark roasting of this fully ethical, dual certified bean, makes it perfect for those customers wishing to follow the Bulletproof Executive regime to the letter, brewing using an electric espresso machine. (For drip filter or cafetiere brewing, please choose the standard medium roasted option of this coffee listed in our Origin Coffees section).
Click here to help decide which grind is best for you.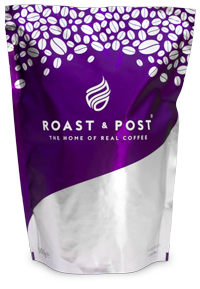 The Roast & Post Coffee Co. ®
Registered Office
7 Regent Street
Kingswood
Bristol
BS15 8JX
t. 01803 605993
e. sales@roastandpost.com
Registered in England No. 4387161.
Registered Office As Above
VAT Reg. No: GB 791 3864 93