We offer generous discounts if you order 2 or more 500g packs of coffee. This can be a mix of different coffees (excludes Gold Collection coffees).
Click here to find out more.
Nicaraguan Fairtrade - NEW
Sandwiched between Costa Rica to the South and Honduras to the North, with the Caribbean to the East and the Pacific to the West, Nicaragua's lush tropical vegetation, high mountains (often volcanic) and temperate climate makes it an ideal location for many types of agriculture. A tumultuous modern day period of political struggles, civil war (albiet relatively short) and US backed dictatorships have given way to a peaceful and politically stable country, that today sees tourism growing at a double digit rate - as good a marker as any for a reflection of a nation's stability.
Our Fairtrade cerified Nicaraguan coffee is sourced through SOPPEXCCA, which was formed in 1997 by a group of 62 farmers, and is now a cooperative located in the department of Jinotega in northern Nicaragua where 60% of the country's coffee is produced. Today SOPPEXCCA has grown to 650 members, 210 of them are women, and they produce approximately 825 tonnes of coffee per annum on very small plots of land. The additional income from Fairtrade has enabled members to buy more land, increase coffee production and quality and increase their incomes.
Sourced from small-holder farmers in the Esteki, Madriz and Neuva Segovia regions, this coffee provides a smooth Chocolate with Stone Fruits flavour, with hints of Roasted Peanuts. Medium to Dark roasted, this coffee is suitable for any Filtered brewing method or through a Cafetiere. We do not recommend this coffee for espresso.
Click here to help decide which grind is best for you.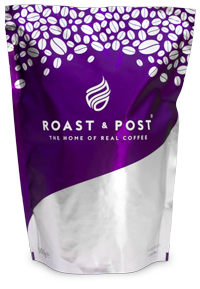 The Roast & Post Coffee Co. ®
Registered Office
7 Regent Street
Kingswood
Bristol
BS15 8JX
t. 01803 605993
e. sales@roastandpost.com
Registered in England No. 4387161.
Registered Office As Above
VAT Reg. No: GB 791 3864 93