Sumatra Blue Ling Tong DARK ROASTED Organic & Fairtrade
Monsooned coffee is directly exposed to the monsoon winds in open warehouses - this increases the body and reduces the acidity. Picked in the Malabar region of India, this coffee is excellent as an espresso coffee when dark roasted, offering a natural sweetness to the brew. It also blends very well with other coffees to enhance the flavours. Darker roasted for a stronger punchy flavour with extra bite.
Another of our 100% arabica bean espresso coffees.
Click here to help decide which grind is best for you.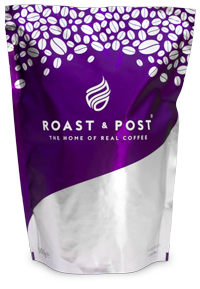 The Roast & Post Coffee Co. ®
Registered Office
7 Regent Street
Kingswood
Bristol
BS15 8JX
t. 01803 605993
e. sales@roastandpost.com
Registered in England No. 4387161.
Registered Office As Above
VAT Reg. No: GB 791 3864 93