Tanzanian AA Ngila Estate
This coffee is Medium-Dark Roasted and can be brewed through an Espresso Machine or through a Filter/Cafetiere.
Aroma & Tasting Notes
Through an Espresso Machine
Brewing through an espresso machine, the aroma is of Black Tea with hints of Berries. On tasting, strong Blackberry acidity, with a medium body of Caramel and Peanuts, and a strong Black Tea aftertaste.
Our thoughts.
Strong acidity with a medium body and lasting Black Tea aftertaste. Enjoy in the morning or evening as an Espresso, Americano or Flat White to really enjoy the flavour notes.
Brewing ratio: 1:2
18 grams of coffee to 38 millilitres of water. Water temperature 93 degrees.
Through a Filter or Cafetiere
Brewed this way, the aroma is Blackberry and Peanuts. On tasting, Blackberry acidity on the front, with a Caramel and Peanut body. Has a lingering Black Tea aftertaste
Our thoughts.
Perfectly balanced with a medium acidity, medium body and clean smooth finish.Works well all day, best served black or white with no sugar.
Brewing ratio: 1:16
20 grams of coffee to 400 millilitres of water. Water temperature 94 degrees.
More about this coffee and where it comes from….
The Ngila Coffee Estate is around 100 hectares, containing some 150,000 coffee trees which produce around 120 tons of prime Arabica highland coffee every year. The coffee varieties are Bourbon and Typica. The farmlands are located at 1500 -1600 metres above sea level and 4° south of the Equator. It's positioned on the edge of the cloud forest of the northern highlands, near to the Conservation Area on the slopes of Ngorongoro crater in northern Tanzania in East Africa.
Ngila Coffee Estate was founded at the beginning of the twentieth century by a German settler. It was an ambitious undertaking but was a success. The coffee farmers laid the foundation for the unique coffee that grows in this mineral-rich volcanic soil.
In 1992 the farm was bought by the German family Meyer. Since then, new technology like modern drip irrigation and water-saving coffee processing equipment has been installed.With proven and experienced staff, Ngila Coffee Estate offers a highland coffee that meets high quality standards.
All coffee on the farm is selectively handpicked and sorted to remove any damaged or under ripe cherries before pulping. Picking on the farm is incredibly stringent, and the harvest season at Ngila lasts nearly two months, with 3 to 4 passes being done for each tree.
After hand-sorting the coffee is delivered to flotation tanks, where any underweight or damaged cherries are again removed. After this, the coffee passes through a Penagos pulper which extracts some of the mucilage from the berries. The coffee is taken in buckets from the density-sorting channel to the drying tables where the parchment is then air dried for at least 7 days. The coffee is turned regularly and covered with netting during the heat of the day.
Click here to help decide which grind is best for you.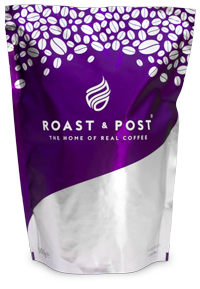 The Roast & Post Coffee Co. ®
Registered Office
7 Regent Street
Kingswood
Bristol
BS15 8JX
t. 01803 605993
e. sales@roastandpost.com
Registered in England No. 4387161.
Registered Office As Above
VAT Reg. No: GB 791 3864 93