We offer generous discounts if you order 2 or more 500g packs of coffee. This can be a mix of different coffees (excludes Gold Collection coffees).
Click here to find out more.
Honduras Capucas - NEW
The cooperative producing this coffee was founded in 1999 by owner Omar Rodriguez Interiano and a group of coffee producers in the village of Las Capucas in Western Honduras, close to the border with Guatemala. Back then Omar wanted to share his knowledge on cultivation and successful commercialisation with local growers, many of whom were part of his family.
Today it is a 'family' of over 900 coffee farmers who are passionate about growing coffee, whilst at the same time being socially and environmentally responsible. Capacus has a handful of social projects such as supporting female producers, of which there are 93 members, that either head or own their own farm - wives with their husbands, and some daughters of farmers. Other projects include building a football pitch and partnering with a University to offer online courses.
Honduras Capucas is created using cherries from multiple small holders who deliver to Capucas, all located on the fringes of the Celaque National Park in the Copan region of Honduras. The cherries are picked and delivered to the cooperative on the same day, and are left to ferment in a pile overnight and then taken to a large polytunnel to dry for up to 30 days. As a 'Natural' or 'Dry Processed' coffee, the coffee bean is in contact with the fruit of the cherry throughout the drying process and therefore takes on some of the characteristics of the fruit, making it taste fruitier and sweeter, and heavier in body.
This coffee is Medium-Dark roasted so can be brewed as a Filter/Cafetiere, brewed through a Bean-to-Cup machine or as a milder Espresso. Its flavour can be characterised as Sweet Chocolate, Caramel and Nutty, with a Medium body.
Click here to help decide which grind is best for you.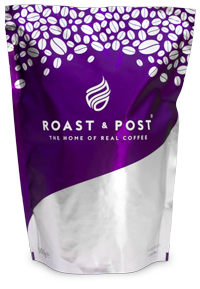 The Roast & Post Coffee Co. ®
Registered Office
7 Regent Street
Kingswood
Bristol
BS15 8JX
t. 01803 605993
e. sales@roastandpost.com
Registered in England No. 4387161.
Registered Office As Above
VAT Reg. No: GB 791 3864 93