We offer generous discounts if you order 2 or more 500g packs of coffee. This can be a mix of different coffees (excludes Gold Collection coffees).
Click here to find out more.
Costa Rica San Ramon El Poeta
This coffee is grown in the 'Land of the Poets' in the West Central Valley region of the Alajuela province in Costa Rica, near to San Ramon which is about 40kms north west of San Jose the capital. Why land of the Poets? Well, because San Ramon is known as the 'City of Poets and Presidents' , and has been home to many of Costa Rica's great literary and political figures. San Ramon itself is located in the Alajuela province, renowned for its active volcanoes, tropical rainforest, waterfalls and lowland swamps.
The regional blend is carefully produced, selected and harvested from varieties such as Caturra, Red Catuai and Villa Sarchi, at altitudes of 1200 - 1500 metres above sea level. Small holder farmers send their coffee to a state-of-the-art mill which tightly controls the various processing stages, operated by Cafe de Altura de San Ramon. In doing so, the farmers gain access to technical support for the best agricultural practises including sustainability, which in turn helps the farmers to improve quality and increase their earnings from coffee sales.
Medium-Dark Roasted this coffee can be brewed through a Bean-To-Cup machine, as an Espresso, or as a strong Filter or Cafetiere coffee. The cup profile is Citrus, followed by Malt and Caramel Sweetness and a wonderful Nuttiness.
Click here to help decide which grind is best for you.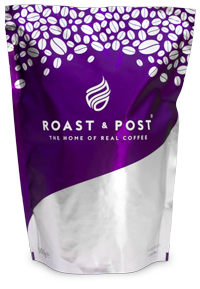 The Roast & Post Coffee Co. ®
Registered Office
7 Regent Street
Kingswood
Bristol
BS15 8JX
t. 01803 605993
e. sales@roastandpost.com
Registered in England No. 4387161.
Registered Office As Above
VAT Reg. No: GB 791 3864 93