We offer generous discounts if you order 2 or more 500g packs of coffee. This can be a mix of different coffees (excludes Gold Collection coffees).
Click here to find out more.
Old Brown Java Raw GREEN Coffee Beans
Accidentally 'invented' when this Javanese coffee was used as ballast in trading cutters on their way to the New World. The coffee matured with the bean changing colour from a light green to pale brown. This results in the loss of some acidity and an enhanced, heavy body and sweetness. This coffee is left for two years to mature these days.his high-grown coffee matures slowly which improves the smooth body of the cup. A good coffee with good acidity, roasting to a slightly darker roast brings out its nutty characteristics.
Click here to help decide which grind is best for you.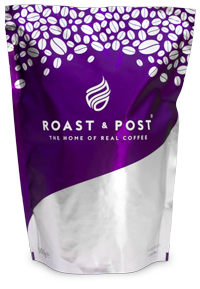 The Roast & Post Coffee Co. ®
Registered Office
7 Regent Street
Kingswood
Bristol
BS15 8JX
t. 01803 605993
e. sales@roastandpost.com
Registered in England No. 4387161.
Registered Office As Above
VAT Reg. No: GB 791 3864 93