Sumatra Blue Ling Tong Organic & Fairtrade Raw GREEN Coffee Beans
The green coffee bean of this beautiful rich coffee has a bluish tinge, which gives the coffee its name. Grown near Lake Toba in the north of Sumatra, the coffee is noted for its smooth heavy texture, soft with mild acidity. Its rich character makes it very suitable for adding milk as it retains its excellent flavour very well. Darker roasted for espresso brewing, with a stronger punchy flavour with extra bite. Dual certified.
Another of our 100% arabica bean espresso coffees.
Click here to help decide which grind is best for you.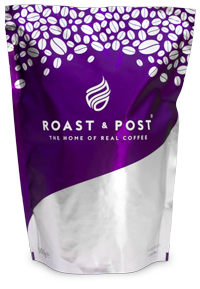 The Roast & Post Coffee Co. ®
Registered Office
7 Regent Street
Kingswood
Bristol
BS15 8JX
t. 01803 605993
e. sales@roastandpost.com
Registered in England No. 4387161.
Registered Office As Above
VAT Reg. No: GB 791 3864 93