GIFT - Organic & Fairtrade Coffee Selection Gift Box
For those coffee lovers looking for an ethical Gift option - A selection of our Organic & Fairtrade dual-certified coffees. An ideal way to sample 6 x 225g packs from our delicious Organic & Fairtrade range.
Beautifully packaged in a quality Gift Box, with rich purple Tissue Paper and accompanying Tasting Notes. A Gift Card can be included which can contain a personalised gift message. Gifts can also be sent direct to the recipient if required. FREE Courier Delivery.
6 x 225g packs freshly roasted Organic & Fairtrade coffees: Colombian, Ethiopian Limu, Sumatra Takengon, Papua New Guinea, Peru, and Guatemala.
Please note, in the unlikely event that a particular coffee is not available we reserve the right to replace this coffee with a suitable alternative.
For cafetiere or drip filter brewing. NOTE: If unsure of the recipient's brewing method, please choose APG from the drop down grind menu.
(NOT suitable for brewing through an electric espresso machine. Electric espresso machines require the Espresso Coffee Selection Gift Pack)
FREE COURIER DELIVERY
Click here to help decide which grind is best for you.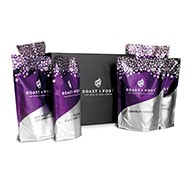 The Roast & Post Coffee Co. ®
Registered Office
7 Regent Street
Kingswood
Bristol
BS15 8JX
t. 01803 605993
e. sales@roastandpost.com
Registered in England No. 4387161.
Registered Office As Above
VAT Reg. No: GB 791 3864 93