We offer generous discounts if you order 2 or more 500g packs of coffee. This can be a mix of different coffees (excludes Gold Collection coffees).
Click here to find out more.
GIFT - Gold Collection Kopi Luwak Gift Box (125g)
For that extra special luxury Gift, why not give the Gift of the rarest and most expensive coffee in the world!
Packaged in a beautiful black box with gold foil lettering and a magnetic self-closing lid, with rich purple tissue paper.
1 x 125g pack of premium Kopi Luwak. Gift card and Tasting Notes included. FREE Courier Delivery.
For cafetiere and drip filter brewing only. NOTE: If unsure of the recipient's brewing method, choose APG from the drop down grind menu.
(NOT suitable for brewing through an electric espresso machine)
We hold a Certificate of Authenticity certifying our supply as 100% authentic highland arabica Kopi Luwak, from wild / free range Luwaks. We do not support the supply of Kopi Luwak from caged civit cats.
Click here to help decide which grind is best for you.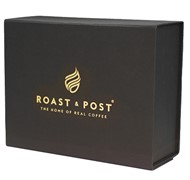 The Roast & Post Coffee Co. ®
Registered Office
7 Regent Street
Kingswood
Bristol
BS15 8JX
t. 01803 605993
e. sales@roastandpost.com
Registered in England No. 4387161.
Registered Office As Above
VAT Reg. No: GB 791 3864 93