GIFT - Espresso Twin Gift Box
The perfect Gift for those mad about espresso coffee!
Includes 2 x 225g packs freshly roasted espresso coffees, perfect for brewing lattes, cappuccinos, long Americanos or espresso shots.
Beautifully packaged in a quality Gift Box, with rich purple Tissue Paper and accompanying Tasting Notes. A Gift Card can be included which can contain a personalised gift message. Gifts can also be sent direct to the recipient if required.
Coffees included: Roast & Post Rich Espresso, and Barcelona Espresso.
For brewing through an electric espresso machine / stove top espresso pot.
(NOT suitable for cafetiere or drip filter brewing. Cafetiere or drip filter brewing requires our Coffee Gift Pack)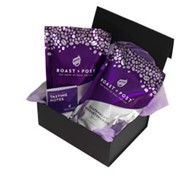 The Roast & Post Coffee Co. ®
Bridgeview House, Redhill Lane,
Elberton, Bristol,
South Glos. BS35 4AE. UK
t. 01454 417147
f. 01454 417774
e. sales@roastandpost.com
Registered in England No. 4387161.
Registered Office As Above
VAT Reg. No: GB 791 3864 93