GIFT Coffee Twin Pack
The perfect Gift for any coffee lover!
Containing 2 x 225g packs of our delicious Origin arabica coffees: Celebes Kalossi Toraja from Indonesia, and Guatemalan Huehuetenango. Gift card and Tasting Notes included.
For cafetiere or drip filter brewing. NOTE: If unsure of the recipient's brewing method, please choose APG from the drop down grind menu.
(NOT suitable for brewing through an electric espresso machine. Electric Espresso machines require our Espresso Gift Pack)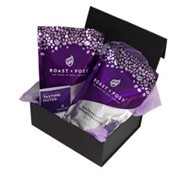 The Roast & Post Coffee Co. ®
Bridgeview House, Redhill Lane,
Elberton, Bristol,
South Glos. BS35 4AE. UK
t. 01454 417147
f. 01454 417774
e. sales@roastandpost.com
Registered in England No. 4387161.
Registered Office As Above
VAT Reg. No: GB 791 3864 93