At the Roast and Post Coffee Company you can be assured of getting the finest quality coffees, teas and fruit infusions delivered free to your door.
Our coffees are available as whole beans, or freshly roasted and ground to your exact requirements.
All coffees are sold in 500g packs not the 227g packs normally found in supermarkets.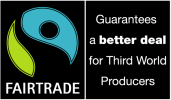 Fairtrade is about better prices, decent working conditions, local sustainability, and fair terms of trade for farmers and workers in the developing world. By requiring companies to pay above market prices, Fairtrade addresses the injustices of conventional trade, which traditionally discriminates against the poorest, weakest producers. It enables them to improve their lot and have more control over their lives.
For 500,000 workers and farmers in the developing world, Fairtrade means better terms of trade and decent production conditions. The Fairtrade Foundation, with its partners, maintains these standards by regularly inspecting third world suppliers, and checking contracts and trade terms.
Strength:

Flavour:

Smooth & Mellow
The family groups of Iuna and Irupi joined together in 1989, having a need to create community associations. This coffee is a special pulp washed Brazilian which produces a rich, fruity flavour with lots of body and aftertaste - bringing you all the excitement of Mardi Gras! More Details
Strength:

Flavour:

Smooth & Mellow
A fresh and fruity coffee from South America grown in the Sierra Nevada district. This coffee is washed in fresh water and prepared using traditional methods. We have roasted it to a full medium colour to emphasise its fine characteristics for your enjoyment. More Details
Strength:

Flavour:

Smooth & Mellow
An all round balanced coffee, mellow with a slight acidity, specially purchased through the Fairtrade Foundation. Fine quality coffee. More Details
Strength:

Flavour:

Smooth & Mellow
The Colombian coffee is decaffeinated by the solvent method. Although the taste on the light roast can produce more acidity than standard coffee, the darker roast produces a flavour more akin to a regular Colombian. Good body with distinctive flavour. More Details
Strength:

Flavour:

Rich & Full bodied
Using a blend of Costa Rica, Honduras, Brazilian Santos, and robusta from Tanzania, we have created a rich flavoured espresso being smooth to the tongue with a pleasing "bitey" after taste. More Details
Strength:

Flavour:

Smooth & Mellow
This coffee is grown in the area of La Central near to the Mayan ruins at Copan, close to the Guatemala border. This is a smooth mellow coffee with very little acidity. More Details
Can't find the coffee you're looking for? Then call or email our office as we are able to supply additional speciality coffees that are not listed on our website.
The Roast & Post Coffee Co. ®
Bridgeview House, Redhill Lane,
Elberton, Bristol,
South Glos. BS35 4AE. UK
t. 01454 417147
f. 01454 417774
e. sales@roastandpost.com
Registered in England No. 4387161.
Registered Office As Above
VAT Reg. No: GB 791 3864 93