We offer generous discounts if you order 2 or more 500g packs of coffee. This can be a mix of different coffees (excludes Gold Collection coffees).
Click here to find out more.
Roast & Post Sweet Espresso - NEW
We have taken three of our 100% Arabica coffees to create this deliciously naturally-sweet espresso blend. Perfect for those who have a sweet tooth, but are trying to limit their sugar intake! We have carefully selected our Indian Monsoon Malabar, Brazilian Santos and Colombian Excelso, all which enhance each other's sweetness, whilst still maintaining their unique individual flavour profiles. The result is a cup that delivers a wonderful coffee experience, with layers of flavour complexity right up to the last sip. This coffee is Medium-Dark roasted so can be brewed through an Espresso machine, but also as a stronger Filter or Cafetiere coffee. Superb as a Latte or Flat White, where the milk only further enhances the sweetness in the cup.
Indian Monsoon Malabar: The colour, shape and size of these beans from India, as well as their aroma and taste, are the result of special post-harvest processing. Historically, coffee was shipped to Europe in wooden sailing vessels that took four to six months to sail around the Cape of Good Hope and up to their destinations. Stored below the water line and kept in an atmosphere made humid by seawater seeping through the wood, the beans underwent a transformation on their long journey to market. The formerly bright green beans would arrive pale gold, doubled in size, and with an entirely new cup profile. This "monsooning" process was later systematically replicated in India, by exposing the coffee beans in 4-6" thick piles to the moisture-laden monsoon winds during the Monsoon months of June through September. This provided European customers with a cup profile they'd first become accustomed to from India, and now continued to demand.
Brazilian Santos: Brazil is a well-known coffee producing giant. They source around one-third of the world's coffee, making them the largest coffee producer in the world. Of course, much of this coffee is lower grade Arabica. However, this country is capable of producing great speciality coffees. Our Santos is a good quality speciality coffee that has been dry processed, meaning the beans are patio-dried whilst they are still in the cherry. Since the coffees are dried in contact with the sweet mucilage, the coffee's cup profile will be heavy in body, sweet, smooth and complex.
Colombian Excelso: Colombia is the second largest producer of coffee in the world, and the largest producer of washed and Arabica coffee, and it is well known for its high quality coffee. There are many coffee producing regions in the country, and the coffees are referred to by the region in which they are grown. Colombia is well known for producing an abundance of truly delicious and sought after coffees. "Excelso" is a grading term for exportable coffee from Colombia, not related to any variety or cupping profile, and specifies that the raw beans are all hand sorted to remove any defective beans and foreign material.
The blend of these three coffees results in layers of complexity, with flavour notes characterised by Sweet Caramalised Sugar upfront, a body of Milk Chocolate and Roasted Nuts, with a lasting Spiced Cinnamon and Sugar aftertaste.
Can be brewed through an Espresso machine, or as a lovely strong Filter / Cafetiere. Superb as a Latte or Flat White , where the milk only further enhances the sweetness in the cup.
Click here to help decide which grind is best for you.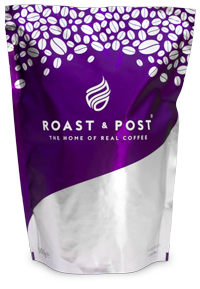 The Roast & Post Coffee Co. ®
Registered Office
7 Regent Street
Kingswood
Bristol
BS15 8JX
t. 01803 605993
e. sales@roastandpost.com
Registered in England No. 4387161.
Registered Office As Above
VAT Reg. No: GB 791 3864 93