We offer generous discounts if you order 2 or more 500g packs of coffee. This can be a mix of different coffees (excludes Gold Collection coffees).
Click here to find out more.
Roast & Post No 7 Blend
The beans sourced to create this blend are 100% Arabica beans and comprise of Peruvian Fairtrade, Honduras Fairtrade and from El Salvador. We created this blend for those that like a nutty, chocolatey coffee, our beans are sourced from farms that we know characteristically have these flavour notes. We roast the beans quickly to accentuate the nut and chocolate chracteristics of these beans.
Medium Dark roasted, this coffee can be brewed using a Filter, Cafetiere or as a light espresso. The flavour notes can be characterised as Milk Chocolate, Green Apple, Hazelnuts and Peanut Brittle. If nuts and chocolate are your favourite flavour combination then look no further this is most definitely the coffee for you.
Click here to help decide which grind is best for you.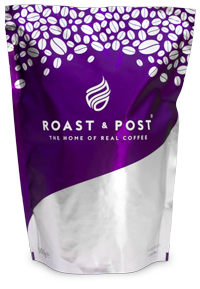 The Roast & Post Coffee Co. ®
Registered Office
7 Regent Street
Kingswood
Bristol
BS15 8JX
t. 01803 605993
e. sales@roastandpost.com
Registered in England No. 4387161.
Registered Office As Above
VAT Reg. No: GB 791 3864 93