We offer generous discounts if you order 2 or more 500g packs of coffee. This can be a mix of different coffees (excludes Gold Collection coffees).
Click here to find out more.
Papua New Guinea Arokara Grade A - NEW
Papua New Guinea Arokara Grade A comes from Arokara Cooperative based in the Eastern Highlands region of Papua New Guinea. The coperative works with a number of plantations, the largest of which are Tairora and Gadsup. These plantations were originally set up with modern farming methods. In the last 10-15 years however these plantations have been returned to the ownership and management of their original landowner growers who do not use any chemicals or fertilisers. As a result, many Papua New Guinea plantations are actually collections of traditional "coffee gardens" or small plots of as few as 20 plants grown alongside subsistence crops. With the increasing introduction of updated processing methods, these already exceptional coffees continue to develop in both quality and consistency. Around 20 to 60 people are employed by the cooperative depending on the season, but importantly in the surrounding communities between 10,000 and 12,000 are dependent on coffee exporting for their income.
The cherries are hand picked by the whole group (or clan as they are called locally) and then pulped on the same day and fermented in cement vats for 36 hours. After the fermentation processs, the coffee is washed with fresh mountain stream water from the nearby Aru river and then sun dried until it reaches the nice, blueish colour that coffees from this area are known for. The drying process takes between seven and twelve days.
Papua New Guinea is unique in its mountainous topography and the incredible cultural diversity of thousands of indigenous tribes. The soils are incredibly fertile and tend to produce coffees which have a crisp citrus acidity and rich flavours of chocolate and tropical fruits.
Papua New Guinea Arokara Grade A is noted for its smooth flavour with slight fruitiness, and has the extra body and flavour characteristics of Indonesian coffees. The cup profile can be described as Dark Chocolate and plum, with a rounded creamy body with winey acidity.
Medium-Dark roasted this coffee can be brewed through a Bean-to-Cup Machine as an Espresso or as a Filter/Cafetiere coffee.
Click here to help decide which grind is best for you.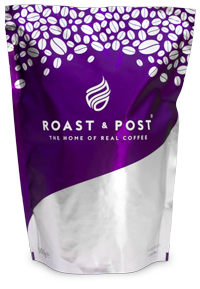 The Roast & Post Coffee Co. ®
Registered Office
7 Regent Street
Kingswood
Bristol
BS15 8JX
t. 01803 605993
e. sales@roastandpost.com
Registered in England No. 4387161.
Registered Office As Above
VAT Reg. No: GB 791 3864 93