We offer generous discounts if you order 2 or more 500g packs of coffee. This can be a mix of different coffees (excludes Gold Collection coffees).
Click here to find out more.
Mexican Naturally Water Processed Decaffeinated DARK ROASTED
This coffee is from the Chiapas region in the south west of Mexico. This light bodied coffee has mild flavour notes with slight acidity and a touch of fruitiness. The aroma is Cocoa and Walnut. On tasting, Green Apple initially with Cocoa notes through the body and a lovely creamy Walnut finish.
The beans are naturally decaffeinated. First a diffusion process is used which allows the gentle displacement of caffeine from green coffee. The Green Beans are soaked in a Green Coffee Extract (GCE), which is pure water saturated with soluble solids from green coffee. With time and temperature, the caffeine migrates out of the green beans into the GCE. This water is filtered, capturing and extracting the caffeine molecules. The flavour and body of the coffee is protected by closely monitoring the solids, caffeine levels, and moisture in the coffee. The process takes approximately 10 hours resulting in green beans that are 99.9% caffeine-free. Once the decaffeinated beans are removed from the GCE, they are then dried, finished, bagged and shipped - ready to be roasted.
Very Dark Roasted, this is a fantastic Decaffeinated Espresso coffee. Smooth, creamy and clean. Best served as a latte or flat white for early risers, or alternatively great as an espresso all day.
Brewing ratio: 1:225
16 grams of coffee to 36 millilitres of water. Water temperature 93 degrees.
Click here to help decide which grind is best for you.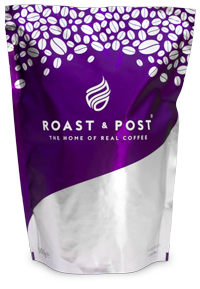 The Roast & Post Coffee Co. ®
Registered Office
7 Regent Street
Kingswood
Bristol
BS15 8JX
t. 01803 605993
e. sales@roastandpost.com
Registered in England No. 4387161.
Registered Office As Above
VAT Reg. No: GB 791 3864 93