We offer generous discounts if you order 2 or more 500g packs of coffee. This can be a mix of different coffees (excludes Gold Collection coffees).
Click here to find out more.
Espresso Trial Selection Pack
A selection of Roast & Post recommended espresso coffees. This pack allows you to try various coffees from our comprehensive espresso range to help find the ideal espresso that suits your taste.
Perfect for your lattes, cappuccinos, long Americanos or espresso shots. Tasting Notes included.
The pack consists of 6 x 200g of the following espresso coffees in order of strength: Roast & Post Ricco Di Nocci, Barcelona Espresso, Italian, Monsoon Malabar (Dark Roast), Roast & Post Sweet Espresso and Dark Italian.
Please note, in the unlikely event that a particular coffee is not available we reserve the right to replace this coffee with a suitable alternative.
This pack has been designed for brewing through a Bean-To-Cup machine, an Electric Espresso Machine and Stove Top Espresso Pot.
Click here to help decide which grind is best for you.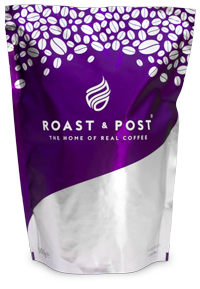 The Roast & Post Coffee Co. ®
Registered Office
7 Regent Street
Kingswood
Bristol
BS15 8JX
t. 01803 605993
e. sales@roastandpost.com
Registered in England No. 4387161.
Registered Office As Above
VAT Reg. No: GB 791 3864 93