We offer generous discounts if you order 2 or more 500g packs of coffee. This can be a mix of different coffees (excludes Gold Collection coffees).
Click here to find out more.
Colombian Anserma - NEW
Colombian Anserma is grown in the western moutains of south west Caldas on the slopes of the Andes. More than 2100 small producers make up the Caficultores de Anerma, with an average farm size of 2.4 hectares. Started in 1967, Caficultores de Anserma is a non-profit associative company that ensures its coffee is grown and distributed for the benefit of its members and their communities. The overiding purpose of the co-operative is the commercialisation of coffee to promote and permanently improve the economic, social, technical and cultural conditions of its members. Around 30% of the members are women, and all the profits are re-invested back into the coffee growers and their communties.
The coffee is grown at an altidude of between 1400m and 1800m above sea level. It is a fully washed coffee, allowing just the flavours of the coffee bean itself to come through in the cup.
Medium-Dark roasted this coffee can be brewed as a Filter/Cafetiere, brewed through a Bean-to Cup machine or as a milder Espresso. Its flavour is Sweet Fruit Notes, Mild Acidity, with a Milk Chocolate and Hazelnut aftertaste.
Click here to help decide which grind is best for you.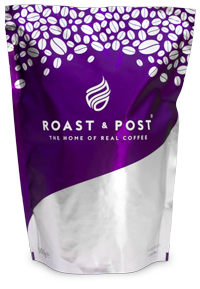 The Roast & Post Coffee Co. ®
Registered Office
7 Regent Street
Kingswood
Bristol
BS15 8JX
t. 01803 605993
e. sales@roastandpost.com
Registered in England No. 4387161.
Registered Office As Above
VAT Reg. No: GB 791 3864 93