We offer generous discounts if you order 2 or more 500g packs of coffee. This can be a mix of different coffees (excludes Gold Collection coffees).
Click here to find out more.
Papua New Guinea Organic & Fairtrade
Produced in the mountainous Eastern Highlands where the soil is rich and dark in colour with volcanic origins. The coffee is produced by traditional methods, the trees have never seen chemical fertilizers or pesticides. The coffee has a chocolate, nutty flavour with a slightly fruity finish.
Click here to help decide which grind is best for you.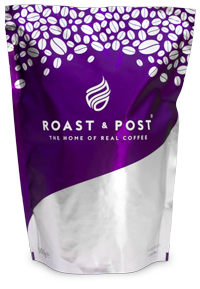 The Roast & Post Coffee Co. ®
Registered Office
7 Regent Street
Kingswood
Bristol
BS15 8JX
t. 01803 605993
e. sales@roastandpost.com
Registered in England No. 4387161.
Registered Office As Above
VAT Reg. No: GB 791 3864 93