We offer generous discounts if you order 2 or more 500g packs of coffee. This can be a mix of different coffees (excludes Gold Collection coffees).
Click here to find out more.
Malabar Rio Blend
This superb blend was previously called RIO Blend but we've renamed it Malabar Rio Blend to reflect the Malabar bens used in this delicious blend. The coffee is exactly the same though so don't worry, we've not changed it !
Strong coffee lover? If you brew in a cafetiere or filter - this one is for you!
For lovers of a truly punchy strong coffee, but not brewing through an electric espresso machine, this is a full roasted coffee giving a delicious smooth, heavy flavour, highlighted with natural sweet notes.
A blend of Dark Roasted Monsoon Malabar, and fully roasted Brazilian Santos to give it body.
Click here to help decide which grind is best for you.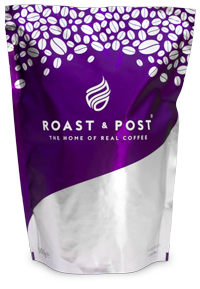 The Roast & Post Coffee Co. ®
Registered Office
7 Regent Street
Kingswood
Bristol
BS15 8JX
t. 01803 605993
e. sales@roastandpost.com
Registered in England No. 4387161.
Registered Office As Above
VAT Reg. No: GB 791 3864 93