We offer generous discounts if you order 2 or more 500g packs of coffee. This can be a mix of different coffees (excludes Gold Collection coffees).
Click here to find out more.
Peruvian Carranza - Juan Marco El Palto - NEW
This coffee is grown in the Amazonian Andes in northern Peru, and is sourced from the JUMARP (Juan Marco El Palto) Coop. JUMARP Coop was founded in 2003 by Jose Carranza Barboza and 35 other small holder farmers, and has grown to over 236 partners today. The Coop has continually invested in processing and training for its associates, and El Palto is now known as a coffee with an excellent body, elegant and balanced flavour, with fine acidity.
Early in its development the Coop noticed that women were typically only involved in the cooperative peripherally, and even more rarely in decision making. To address this the Coop created the 'Mujeres programme' (Spanish word for Women), which works to improve the social and economic standing for its women members.
The coffee is grown at an altitude of 1100m to 1800m above sea level, and is washed processed. The crops are strictly managed using as few pesticides as possible, using organic materials and striving to preserve the farmers' natural resources.
This coffee is Medium-Dark roasted, and can be brewed either as a Filter or Cafetiere, or brewed through a Bean-to-Cup machine. It can also be brewed as a milder Espresso. This delightful coffee has a cup profile of Milk Chocolate, Dried Fruits and Honey, with a clean mouthfeel, a high level of sweetness and a medium body.
Click here to help decide which grind is best for you.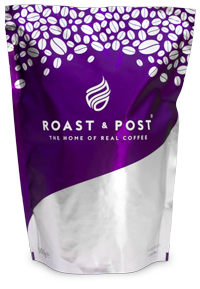 The Roast & Post Coffee Co. ®
Registered Office
7 Regent Street
Kingswood
Bristol
BS15 8JX
t. 01803 605993
e. sales@roastandpost.com
Registered in England No. 4387161.
Registered Office As Above
VAT Reg. No: GB 791 3864 93