Brazilian Fazenda Cruzeiro - Topazio - NEW
Fazenda Cruzeiro is a 200 hectare farm located in the Cerrado Mineira region of Brazil, which is a renowned region for the quality of the beans grown there. At 930 metres above sea level, this farm has perfect conditions to produce quality Speciality coffees. The region receives around 1800-2000mm of rain annually which makes irrigation neccessary. The rainy season always falls before May, which guarantees perfect conditions for a natural drying process.
The farm is famous for producing mainly Red Catuai and Mundo Novo varieties, with only 5% of the land dedicated to the Rubi variety, and the coffee has steadily improved with every harvest. The farm was founded in 1923 but was bought by Claudio Ottoni in 2009, a fifth generation of a family involved with coffee production. Around 15-20 people are employed at the farm. The Ottoni family always seek to use the most sustainable growing practices, with over 140 hectares devoted to wildlife preservation, and wild animals can be seen across the farm. Additionally the Cruzeiro farm operates with no water waste, and the elimination of herbicides by methods such as the planting of plant species near to the coffee trees that will attract and trap bugs and insects before they can infect the cherries.
The biggest innovation which helps drive the quality, is the use of silo dryers in the drying process. Commonly used for seeds and grains, this helps control the drying process and has produced excellent results in the cup, due to the slower drying process under controlled temperatures - all of which increases uniformity and prevents over-fermentation.
Chocolatey, fruity and rich, this coffee is Medium - Dark Roasted and produces a superb rich, smooth coffee.The cup profile is Dark Chocolate, Red Berries, Plum, and a Creamy Buttery Walnut finish.
Click here to help decide which grind is best for you.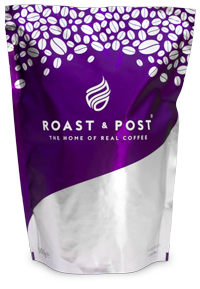 The Roast & Post Coffee Co. ®
Registered Office
7 Regent Street
Kingswood
Bristol
BS15 8JX
t. 01803 605993
e. sales@roastandpost.com
Registered in England No. 4387161.
Registered Office As Above
VAT Reg. No: GB 791 3864 93