Bolivian Archangel
Aroma & Tasting Notes
Through an Espresso Machine
Brewed in this way, the aroma is Cherry with a sweet hint of Vanilla. On tasting, intense Cherry and Vanilla up front with hints of Peach, in the aftertaste super sweet and creamy.
A super sweet indulgent espresso, great for those who would normally add sugar! Makes a Beautiful Cortado or Flat White, best served late morning or with lunch.
Through a Filter Machine or Cafetiere
Brewed this way, the aroma is intense Vanilla with a hint of Peach. On tasting, Cherry upon first taste followed by subtle undertones of Peach and Vanilla with a creamy finish.
A rich, super sweet coffee, well balanced with complex flavours. Great served morning, noon and night.
More about where this coffee comes from….
Finca El Arcangel is a 10 hectare farm owned by the Rodriquez family located in the Bolinda community, just outside of the town of Caranavi. Arcangel is mostly planted with Caturra, with some Bourbon and Typica too, and sits at 1650m above sea level.
Having been planted in 2015, Arcangel is a very new farm and these lots are some of the first they have ever produced. The farm is surrounded by native forest, and some of the native tree species are used as shade trees on the farm.

As there is no wet mill at the farm, the cherries are taken to the Buena Vista mill in Caranavi where they are processed and dried. The climate in Caranavi is very humid and is prone to long periods of rain, so the mill has started using mechanical air driers, which are temperature controlled boxes which use warm air to dry the coffee over a number of days.
This drying method is very gentle and allows the mill to control the humidity throughout, which includes turning them off during the night to rest the coffee, in order to replicate natural sun drying.
All of the coffee is pre-dried on raised beds for 3 days, which allows the moisture content to equalise and to control the fermentation.
Click here to help decide which grind is best for you.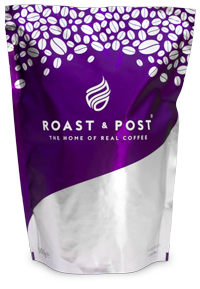 The Roast & Post Coffee Co. ®
Bridgeview House, Redhill Lane,
Elberton, Bristol,
South Glos. BS35 4AE. UK
t. 01454 417147
f. 01454 417774
e. sales@roastandpost.com
Registered in England No. 4387161.
Registered Office As Above
VAT Reg. No: GB 791 3864 93