We offer generous discounts if you order 2 or more 500g packs of coffee. This can be a mix of different coffees (excludes Gold Collection coffees).
Click here to find out more.
Panama Palmyra Estate - NEW
This coffee is grown in the Boquete region in western Panama about 50kms from the border with Costa Rica. Grown between 1600m and 1800m above sea level on rich volcanic soil, this wonderful coffee is produced with water provided by four natural springs, in an area teaming with wildlife such as white-neck monkeys, deer, rabbits and a wide variety of birds. Palmyra Estate coffees come from the Palmira farm located in the centre of Hacianda La Esmeralda. The lands that make up Hacienda La Esmeralda were first brought together by a Swede named Hans Elliot in 1940. In 1967 a Swedish-American banker Rudolph Peterson bought Hacienda La Esmeralda as a retirement venture. At the time the land was primarily used for cattle, with some small smatterings of coffee mixed in. By the mid 1980s the family started to diversify, and coffee with its rich production history in the region was a perfect opportunity. It was the huge reservoir of coffee knowledge and culture locally that helped the Petersons redevelop much of their land for coffee farming, and make their first coffee farm expansion at Pilmira in 1988.
The farm is managed as sustainably as possible, re-using the coffee pulp as a source of fertilisation and irrigation by draining it out onto the dairy pastures. Tree pruning is purposely timed before and after nesting season, and the farm uses both hydro-electricity and sustainable wood burning to run the coffee mill.
This coffee is fully washed processed, allowing all the rich flavours of the bean itself to come through. It is Rainforest Alliance certified, offering wonderful flavours whilst remaining eco-friendly for the surrounding environment.
Medium-Dark roasted, this coffee can be brewed as a Filter and Cafetiere coffee, or brewed through a Bean-to-Cup machine. It can also be brewed as a milder Espresso. With a smooth, fruity acidity, the Cup Profile is Cherry, Vanilla, Toffee and Walnuts.
Click here to help decide which grind is best for you.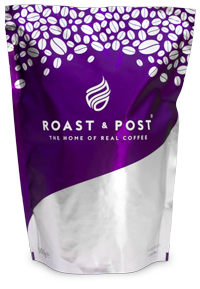 The Roast & Post Coffee Co. ®
Registered Office
7 Regent Street
Kingswood
Bristol
BS15 8JX
t. 01803 605993
e. sales@roastandpost.com
Registered in England No. 4387161.
Registered Office As Above
VAT Reg. No: GB 791 3864 93