El Salvador Santa Ana Finca La Reforma - NEW
This coffee is Medium-Dark Roasted and can be brewed through an Espresso Machine or through a Filter/Cafetiere.
Aroma & Tasting Notes
Through an Espresso Machine
Brewing through an espresso machine, the aroma is of Blackberries and Caramel. On tasting, Blackberries with a Creamy Chocolate body, and a sweet Maple Syrup - like aftertaste.
Our thoughts.
Medium acidity, with a creamy heavy body and lasting sweet aftertaste.
Enjoy in the morning or evening as an Espresso, Americano or Flat White to really enjoy the flavours of this spectacular coffee!
Brewing ratio: 1:2
18 grams of coffee to 38 millilitres of water. Water temperature 93 degrees.
Through a Filter or Cafetiere
Brewed this way, the aroma is of Blackberries and Chocolate. On tasting, Blackberries initially with a Creamy Chocolate body, and a sweet Maple Syrup - like aftertaste.
Our thoughts.
Well balanced with a medium acidity, an amazing sweetness in the aftertaste, and a clean mouthfeel. Works well all day, best served black or white with no sugar.
Brewing ratio: 1:16
20 grams of coffee to 400 millilitres of water. Water temperature 94 degrees.
More about this coffee and where it comes from….
Finca La Reforma was established by Rafael Alvarez Lalinde in 1892 on the rich, humid slopes of the Santa Ana Volcano. Originally from Colombia, Don Rafael immigrated into the region, bringing some of his best coffee seeds with him to begin a new legacy for coffee production. Four generations later his descendants still own and manage this pair of small neighbouring farms – originally part of this initial farm, which was broken up for inheritances – on the fertile slopes of the Santa Ana volcano.
The Alvarez Diaz brothers are the fourth generation to farm coffee in this exceptional region. Following in their father's footsteps, both farms to this day are planted solely with Red Bourbon variety coffee trees, demonstrating the family's commitment to quality even in the face of El Salvador's recent struggles with coffee leaf rust, to which Bourbon trees are particularly susceptible. The family is experimenting with orange and Yellow Bourbon, but plan to only stick with this single variety.
This 36 hectare estate is planted out with 100% Bourbon coffee trees and benefits from excellent growing conditions, as well as scrupulous farm management. The Alvarez family's hard work was recognised in the 2011 Cup of Excellence, when La Reforma was awarded third place in the competition final.
La Reforma's coffee trees are shade grown under native shade species (at a density of around 50%), which enrich and conserve the soil and provide an important habitat for birds and other wildlife. The trees are managed according to a stringent pruning schedule that maintains the health of the trees and improves their resistance to diseases and insect damage. The excellent growing conditions and the commitment to sustainable growing practices have helped the family to harvest some of the best coffee from this elite region of El Salvador.
The coffee cherries are hand-picked when fully ripe by pickers who have been trained to select only fully mature cherries. The coffee is then processed in the family's modern wet mill, sun dried on patios and stored in their purpose built facility. This allows the Alvarez family to manage the entire production process - with meticulous attention to detail shown at every stage. The family and their staff are also skilled cuppers, and they regularly cup and re-cup their coffees to maintain quality.
Eduardo Alvarez, who manages the family's mill, also provides technical assistance and guidance to the farms with which they work. In fact, Eduardo's hard work and advocacy has enabled many of these farms to place in Cup of Excellence competitions. Of the 15 high altitude farms with which El Borbollon works, 10 have won places in Cup of Excellence competitions. 4 of these, including La Reforma, have won the COE Presidential Award for achieving scores in excess of 90 points.
Click here to help decide which grind is best for you.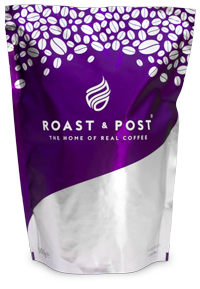 The Roast & Post Coffee Co. ®
Registered Office
7 Regent Street
Kingswood
Bristol
BS15 8JX
t. 01803 605993
e. sales@roastandpost.com
Registered in England No. 4387161.
Registered Office As Above
VAT Reg. No: GB 791 3864 93