Cup of Excellence - El Liquidambo Honduras - NEW
This is a spectacular award-winning Honduran coffee. It won 6th place in the Cup of Excellence out of 24 finalists! There are only 15 boxes of this coffee available worldwide, and we are lucky enough to have acquired one 60kg box.
Medium to dark roasted, this coffee can be brewed using an espresso machine or a Filter / Cafetiere.
Aroma
Fruit notes with undertones of nuts and toffee as an espresso. Strong aroma of toffee with undertones of caramel as a Filter/Cafetiere.
Tasting Notes
Brewed as an espresso
Beautiful caramelised apple initially, with subtle notes of toffee, warm caramel and kiwi acidity through the centre, with an amazing almond brittle finish.
Brewed as a Filter/Cafetiere
Hints of caramelised apple up front, with caramel and almonds through the body and a beautiful almond brittle & toffee finish.
Our overall thoughts
Brewed using an espresso machine
The combination of apple and sweetness of toffee and caramel, makes this a wonderful espresso. Very inviting served with steamed milk as a latte or cappuccino, or a flat white.
Brewed using a Filter / Cafetiere
The warm apple combined with the caramel and almonds makes this a superb coffee.
Recommended dose
Espresso: 18 grams of coffee extract 36 millilitres of espresso. Temp of Water 93 degrees.
Filter/Cafetiere: 20 grams of coffee to 320 millilitres of water. Temp of Water 92 degrees.
More about the coffee and where it comes from….
El Liquidambo farm is located in the village of Las Acacias in the municipality of Marcala, Department of La Paz, at an altitude of 1410 meters above sea level.
Maria is a small coffee producer who has had a tough life following the death of her husband in 2006, which is why she decided to take over the farm with her two children. This decision meant that one of her sons had to postpone his professional studies at a university in Tegucigalpa to work on the family farm "Liquidambo". This small family farm is run with the love and memory of her husband, and for her children and grandchildren to whom she wants to leave a legacy.
This is the first time she has participated in the COE competition, doing incredibly well obtaining 6th place. Her farm produces Catuai and Bourbon varieties at a height of 1409 meters above sea level, and she has gradually improved her farm with the support of IHCAFE who help with fertilizers and technical support for the management of her farm, and now she can see the results she is filled with much satisfaction.
Coffee process begins with the selection of ripe cherries; Maria does not have a milling machine so she hires in this service, though she always monitors the implementation of the processing and drying of the coffee. Her dream is to continue cultivating an excellent quality coffee in order to give education to her children.
Previously she sold her coffee only locally, but now with this experience in the preparation of speciality coffees she is hoping to sell her coffee to International markets, to improve living conditions and to reward the efforts and sacrifice of her children. Currently 4 of her 6 children have been able to go to university because of the money she has been able to generate through her award-winning coffee!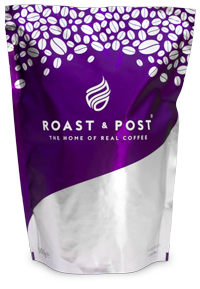 The Roast & Post Coffee Co. ®
Bridgeview House, Redhill Lane,
Elberton, Bristol,
South Glos. BS35 4AE. UK
t. 01454 417147
f. 01454 417774
e. sales@roastandpost.com
Registered in England No. 4387161.
Registered Office As Above
VAT Reg. No: GB 791 3864 93