Tanzanian Ngorongoro Crater - NEW
This coffee is one of two coffees we have from the Finagro Planations in northern Tanzania. It is located in the Oldeani area, on the slopes of the Ngorongoro Crater. This is the world's largest intact volcanic crater, a UNESCO world heritage site, and a haven for scores of wildlife including elephants, rhinos, lions and numerous anetelope.
The first occupiers on the farm were German settlers. Between 1926 and 1931 they planted coffee on Ascona, one of the two farms of Finagro, the other being Edelweiss. During the second world war the German settlers were interned and the farms were taken over by the British Authorities, and Mr BN Vohora oversaw the operations for the British Administration. After the war the farms were sold to an American Multinational in the 1950s, and in 1969 Mr BN Vohora bought the Ascona and Edelweiss farms. Since then three generations of the same family have nurtured and expanded these farms to develop truly exceptional coffee.
The farms are located high up on the edge of the Ngorongoro Conservation area. Both farms border the Ngorongoro forest, which comprises entirely of indigenious trees and bushes and is home to the fantastic wildlife. The family maintain the bush land areas for the wildlife and tree cover throughout the farms, and ensure their farming has minimal impact on the incredible wildlife.
Ngorongoro Crater is from the Ascona farm and is a 'Natural' or 'Dry Processed' coffee . This is where the whole cherry is dried first before the surrounding fruit is removed. As a result, the coffee bean is in contact with the fruit of the cherry throughout the drying proceess and therefore takes on some of the characteristics of the fruit, making it taste fruitier and heavier in body.
This coffee is Medium-Dark roasted so can be brewed as a Filter/Cafetiere, or brewed in a Bean-to-Cup Machine, and as a mild Espresso. The Flavour Notes are Dark Chocolate, Orange and Hazelnuts.
Click here to help decide which grind is best for you.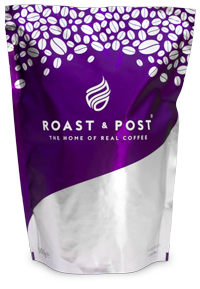 The Roast & Post Coffee Co. ®
Registered Office
7 Regent Street
Kingswood
Bristol
BS15 8JX
t. 01803 605993
e. sales@roastandpost.com
Registered in England No. 4387161.
Registered Office As Above
VAT Reg. No: GB 791 3864 93