Rwanda Kinini Estate - NEW
This coffee is Medium-Dark Roasted and can be brewed through an Espresso Machine or through a Filter/Cafetiere.
Aroma & Tasting Notes
Through an Espresso Machine
Brewing through an espresso machine, the aroma is of Orange sweetness with undertones of Raspberry in the aroma. On tasting, bright Citrus Orange on the front of your palate, with a sweet Raspberry and Dark Chocolate body and a lasting Spicy aftertaste.
Our thoughts.
Clean, pronounced flavour notes with a sweet smooth mouthfeel and lasting juicy finish. Enjoy all day as an Espresso or Flat White to really enjoy the flavours of this unique coffee!
Brewing ratio: 1:2
18 grams of coffee to 36 millilitres of water. Water temperature 93 degrees.
Through a Filter or Cafetiere
Brewed this way, the aroma is Orange with subtle notes and hints of Raspberry. On tasting, Orange upfront, Raspberry & Dark Chocolate through the body with a Spicy aftertaste.
Our thoughts
Fantastically sweet, well balanced, with a juicy body. Works well all day, best served black with no sugar or milk.
Brewing ratio: 1:16
20 grams of coffee to 400 millilitres of water. Water temperature 94 degrees.
More about this coffee and where it comes from….
Introducing Kinini Coffee, a company started by Malcolm Clear and Jaqueline Turner, who first set up the charity A New Beginning in Rwanda in 2008, and then started growing coffee in 2012. It was set up to help a group of widows and orphans displaced during the genocide in 1994, who were subsequently resettled in an area of uncultivated savannah. The charity set up a school and a health post which has fully trained staff and is self-sufficient. Their work is still ongoing and they are raising another £24k to build three more classrooms for the ever growing school.
In 2012 they started R & B Import Export to partner with farmers in the Northern Province of Rwanda, with the aim to improve the lifestyle and well-being of the local community.
They partnered with 633 local farmers and the Local Government to grow coffee in 252 hectares of prime consolidated coffee growing land in the Rusiga and Mbogo Sectors, Rulindo District, Northern Province.
The partnership between the farmers and Kinini (R&B) is based on a 30 year renewable lease for the use of the 252 hectares for coffee growing, fully backed, approved and endorsed by the Local Government. The land has been given a 'restriction' by the Rwandan Land Office, so the farmer has given his land as security to R & B for the term of the 30 year lease (like a loan or mortgage). Through this arrangement both the farmer and R & B have the security that they will carry on producing and selling coffee for at least 30 years.
All the 252 hectares are between 1,800-2,500 metres above sea level, having an average temperature of 19C and an average rainfall of over 1 metre per annum. They de-pulp their coffee using a four disc McKinnon pulper and ferment it from 5 to 20 hours, depending on the decision of the quality manager monitoring the fermentation. The coffee is then sun dried for an average of 15 days, depending on the intensity of the sun. Kinini Coffee is washed Arabica coffee of the highest quality, and they are working towards becoming fully Organic, Fairtrade and Rainforest Alliance certified.
Malcolm and Jacqueline
Malcolm Clear is a retired businessman, builder and developer. Jacqueline Turner is Rwandan and has dual nationality, British and Rwandese. She worked for the Rwandan Government until she married in 2001, and is also a member of the International Women's Coffee Association (IWCA).
Click here to help decide which grind is best for you.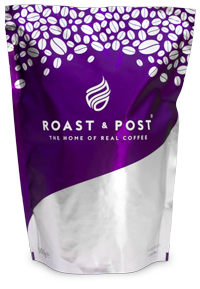 The Roast & Post Coffee Co. ®
Registered Office
7 Regent Street
Kingswood
Bristol
BS15 8JX
t. 01803 605993
e. sales@roastandpost.com
Registered in England No. 4387161.
Registered Office As Above
VAT Reg. No: GB 791 3864 93