Ethiopian Yirgacheffe Ajere 200G TRIAL SIZE- NEW
This coffee is Medium-Dark Roasted, and can be brewed through an Espresso Machine or through a Filter/Cafetiere.
Aroma & Tasting Notes
Through an Espresso Machine
Brewed this way the aroma is of beautiful tropical fruit floral aromas. On tasting, intense Passionfruit with a lingering Pineapple flavour through the body. Only towards the back of the throat does a delicate Cloudy Lemonade flavour take over.
Our thoughts.
Intense from the start, with beautifully delicate fruit flavours, balanced acidity, body and aftertaste. We believe this an excellent espresso or a great fruity afternoon cortado.
Brewing ratio:
16 grams of coffee to 32 millilitres of water. Water temperature 93 degrees.
Through a Filter or Cafetiere
Brewed this way this coffee has a beautiful tropical fruit floral aroma. On tasting, Cloudy Lemonade at the start with a Passionfruit body and clean notes. Ripe Pineapple in the aftertaste.
Our thoughts.
Has a medium acidity and body with a sweet creamy aftertaste. This is a great all day coffee. Best served black with no milk!
Brewing ratio:
18 grams of coffee to 288 millilitres of water. Water temperature 92 degrees.
More about this coffee and where it comes from….
The village of Ajere is in the Aricha sub-region of the Yirgacheffe District, in the 'Southern Nations, Nationalities and Peoples' (SNNP) region of Ethiopia. Over a number of years the region has developed a distinguished reputation for fine coffees, producing some of the most sought-after micro lots in the world. The combination of high altitude (up to 2,200m in some areas), fertile soil, consistent and plentiful rains, and an abundance of local knowledge are all contributing factors to the high status of Yirgacheffe coffees. The indigenous 'heir- loom' varietals - which grow wild in Ethiopia - are responsible for the unique flavour notes of Yirgacheffe coffees, which make for an unusual but beautifully refined cup, generally characterised by strong citric acidity, sweet chocolate and floral/ herbal notes of lavender, jasmine, bergamot and thyme. This particular Yigacheffe Ajere coffee is Medium-Dark Roasted, and can be brewed through an Espresso Machine or through a Filter/Cafetiere. The cup profile is Cloudy Lemonade, Passionfruit and Pineapple.
In the daytime the parchment needs to be raked and turned periodically to ensure a consistent drying process. The coffee is also covered between 12pm and 3pm to protect it from the hot sun, and at night time to protect it from rainfall and moisture. Once the coffee has dried to the right level it is transported to Addis Ababa for dry-milling, grading, intensive sorting and handpicking, before being bagged in GrainPro for export.
NOTE: ORDER QUANTITY DISCOUNTS DO NOT APPLY TO THIS SIZE
Click here to help decide which grind is best for you.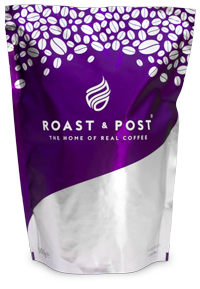 The Roast & Post Coffee Co. ®
Bridgeview House, Redhill Lane,
Elberton, Bristol,
South Glos. BS35 4AE. UK
t. 01454 417147
f. 01454 417774
e. sales@roastandpost.com
Registered in England No. 4387161.
Registered Office As Above
VAT Reg. No: GB 791 3864 93