Ethiopian Koke Honey Sidamo
We don't recommend this coffee for the Espresso enthusiast or Cappuccino/Latte lovers out there ! If using an Espresso machine we recommend drinking as an Americano.
This coffee is grown in the Sidamo region south of the capital, Addis Ababa. It is the most southern and most productive province in the country. The region is well known for having ideal climate conditions for growing coffee. This is all due to high altitudes of between 1600 - 1900 metres, ample rainfall, optimal temperature, and rich soil.
Washed Sidamos are typically high quality coffees with unique flavours like sweet lemon and florals, and an ideal balance between acidity and body, and can often compare favorably with coffee from the Yirgacheffe region.
Aroma
Espresso: Strawberry with hints of Bergamot.
Filter/Cafetiere: Strawberries with a hint of Vanilla.
Tasting Notes
Espresso: Dominant Strawberry Flavour throughout, with hints of Vanilla and Bergamot with a slightly dry finish.
Filter/Cafetiere: Big Strawberry flavours, with hints of Vanilla throughout and a Bergamot aftertaste.
Overall thoughts
As an Espresso:
A delicate coffee which will work well as an Americano with a splash of milk. Not recommended for the espresso enthusiast or Latte/Cappuccino lovers out there.
As a Filter/Cafetiere:
If you like Strawberries, this is the coffee for you. A long black with no milk or sugar will be best to avoid losing the delicate flavours in this coffee.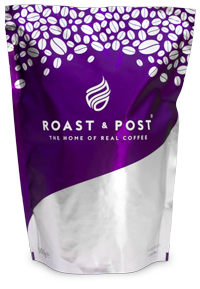 The Roast & Post Coffee Co. ®
Bridgeview House, Redhill Lane,
Elberton, Bristol,
South Glos. BS35 4AE. UK
t. 01454 417147
f. 01454 417774
e. sales@roastandpost.com
Registered in England No. 4387161.
Registered Office As Above
VAT Reg. No: GB 791 3864 93