Burundi Murambi
Aroma & Tasting Notes
Through an Espresso Machine
Brewed this way the aroma is of Dark Chocolate with notes of Cherries and Plums. On tasting, Cherry initially with subtle notes of Lime. The body is Dark Chocolate and Cherry, and has a lingering Plum finish.
Overall, clean, clear and crisp flavour notes with a creamy mouthfeel and velvety finish. Enjoy all day as an Espresso, Americano or Flat White to really enjoy the flavours of this truly special coffee!
Through a Filter or Cafetiere
Brewed this way the aroma is of Plum with subtle notes of Limes & Cherries. On tasting, Cherries with Lime acidity initially, with Dark Chocolate through the body and a mild Plum-like aftertaste.
Overall a nice flavour balance with a medium acidity, the body is strong with an amazing sweetness, and the aftertaste is lasting and has a clean mouthfeel. Works well all day, best served black with no sugar or milk.
More about where this coffee comes from….
This is a washed coffee from Murambi - a sub-region of the Ruigi province in eastern Burundi, and is processed at the Gomba washing station. The Gomba washing station is located in the Buhinyuza District in Muyinga province, bordering Tanzania.
The washing station lies at 1433 metres above sea level, and receives cherries from the surrounding hills with altitudes typically between 1400 and 1600m. The Gomba washing station has already registered 2831 coffee producers divided into 97 groups of 30 farmers, headed by a lead farmer, each with an average of 304 trees per farm.
The Gomba washing station also has its own coffee nursery which supplies new trees for the smallholder farmers in the region.
Click here to help decide which grind is best for you.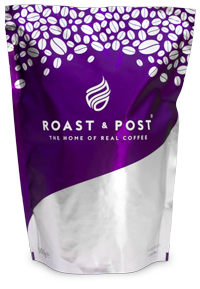 The Roast & Post Coffee Co. ®
Registered Office
7 Regent Street
Kingswood
Bristol
BS15 8JX
t. 01803 605993
e. sales@roastandpost.com
Registered in England No. 4387161.
Registered Office As Above
VAT Reg. No: GB 791 3864 93