We offer generous discounts if you order 2 or more 500g packs of coffee. This can be a mix of different coffees (excludes Gold Collection coffees).
Click here to find out more.
Peruvian Lonya Grande (Amazonas) Norcafe - NEW
This coffee is grown by farmers from the San Jose de Lourdes region located in the very far north of Peru close to the border with Ecuador. The cherries are harvested in August and all grown above 1850m with some areas of the farms going as high as 2110m. The coffee is naturally processed which is where that the full cherry is left on the bean and dried in the sun prior to de-pulping. This results in the bean having more time to interact with the natural sugars from the cherry as the enzymes break down the mucilage around the bean which delivers complex fruity flavours.
Sourced through Norcafe, this is a new cooperative made up of next generation farmers who have inherited or taken over their parents farms and all aged between 24 and around 30 years old. Their shared goal is to work together to promote continious improvement in the quality of the coffee and opportunities for all within the cooperative. It was formed in 2015 with the participation of 100 families and today some 470 families are part of the project.
A superb coffee with a floral aroma with a taste profile of Citrus Fruits, Honey and Caramel. Medium Dark Roasted so can be brewed as a Filter or Cafetiere coffee or through a Bean to Cup machine or as a mild Espresso.
Click here to help decide which grind is best for you.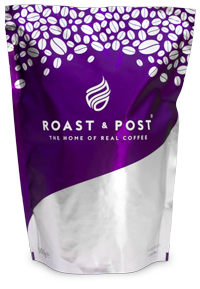 The Roast & Post Coffee Co. ®
Registered Office
7 Regent Street
Kingswood
Bristol
BS15 8JX
t. 01803 605993
e. sales@roastandpost.com
Registered in England No. 4387161.
Registered Office As Above
VAT Reg. No: GB 791 3864 93