Nicaraguan Flor Silvestre
Aroma & Tasting Notes
Through an Espresso Machine
Brewing through an espresso machine, the aroma is of Dark Chocolate with notes of Lemon and Almond. On tasting, Lemon with notes of Caramel upfront, with a beautiful Dark Chocolate body which is complimented with a lingering Almond aftertaste.
Clean, clear and crisp flavour notes with a creamy mouthfeel and velvety finish.
Enjoy all day as an Espresso or Flat White to really enjoy the flavours of this truly special coffee!
Through a Filter Machine or Cafetiere
Brewed this way, the aroma is Dark Chocolate upfront with hints of Lemon. On tasting, Lemon and Sugary Caramel initially, Dark Chocolate through the body and an Almond-like finish.
Well balanced with a mild acidity, the body is strong with an amazing sweetness. The aftertaste is lasting, and it has a clean mouthfeel. Works well all day, best served black with no sugar or milk.
More about where this coffee comes from….
Finca Flor Silvestre, located at the intriguingly named 'Cerro de La Explosión' (Explosion Hill) is owned by Roger Esau Herrera Ortez. When the farm was founded in 1997, Roger was considered something of a maverick, as he was the first coffee farmer to be planting coffee trees in such a difficult place to produce coffee. The forest was dense (the area had seen a great deal of military activity during the Sandanista and Contra years) and the land steep. The task seemed nigh on impossible.
However, Roger remained undaunted, cutting his way through the forest until he reached his parcel of land. The farm had previously been a mine camp for rebel forces, so his first task was to clean up. Once it was levelled and all dangerous equipment removed, Don Roger Esau started to plant coffee trees one by one, manzana by manzana (a manzana is 0.7 hectares).
He found that producing coffee at such a high elevation and at such cool temperatures is not easy: it requires a lot of effort and patience, and growth of the trees is slow, taking up to 4 years to reach full production. Yields are low – with only 7-12 quintales per manzana (.70 hectares) whereas in other areas of Nicaragua production averages at about 40 quintales per manzana.
Luckily, despite the drawbacks Roger Esau has discovered that the same challenges are what make his coffee so unique and special. He is now very proud of being a producer of extremely high quality coffee; in fact, his coffee was recognized in 2015's Cup of Excellence and has won recognition during the recent 'Cafes mas Finos de Nicaragua' Competition (2016).
All coffee is processed at the farm's own wet mill. Only the ripest and most perfect cherries are picked during the harvest. These are delivered immediately to the wet mill, pulped, and then fermented in wooden tanks for between 24 to 36 hours depending on the climate at the time.
Click here to help decide which grind is best for you.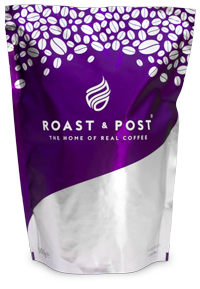 The Roast & Post Coffee Co. ®
Bridgeview House, Redhill Lane,
Elberton, Bristol,
South Glos. BS35 4AE. UK
t. 01803 605993
e. sales@roastandpost.com
Registered in England No. 4387161.
Registered Office As Above
VAT Reg. No: GB 791 3864 93