We offer generous discounts if you order 2 or more 500g packs of coffee. This can be a mix of different coffees (excludes Gold Collection coffees).
Click here to find out more.
Myanmar Padah-Lin - NEW
Padah-Lin coffee comes from the Mandalay Coffee Group (MCG), and consists of daily lots grown mainly by Danu and some Pa-O hill tribe smallholder farmers in the remote mountainous area of Ywangan, Southern Shan state in Myanmar.
MCG was formed in 2014 and is owned entirely by citizens of Myanmar. MCG works with over 50 smallholder farmers, each of whom cultivates approximately 0.25-0.3 acres of land. The coffee is shade grown for shelter and protection with a variety of produce such as avacados, jackfruit, papayu and macadamia. The different types of trees act as a buffer to the spread of leaf rust, and provide much needed shade for both the coffee and the families who welcome the shade around their homes. Most of the farmers do not use fertilizer, but wealthier farmers who have cattle use the manure from their cattle to fertilise.
Grown at 1280m above sea level, the cherries are harvested between December and April and within 48 hours of picking the hand sorted cherry is collected and transported to the processing mill at Pyin Oo Lwin. The cherries are floated, pulped and fermented overnight in tiled tanks that maintain lot seperation, and after rinsing the coffee is dried on concrete patios for 7 - 10 days.
This is a deliciously smooth coffee with slight citric notes. The taste profile is Satsuma, Cinnamon and Milk Chocolate.
Medium-Dark Roasted, this coffee can be brewed as a Filter or Cafetiere coffee or brewed through a Bean-to-Cup machine or as a mild espresso.
Click here to help decide which grind is best for you.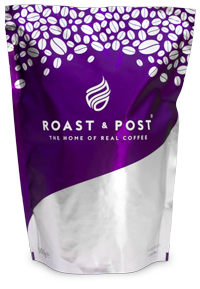 The Roast & Post Coffee Co. ®
Registered Office
7 Regent Street
Kingswood
Bristol
BS15 8JX
t. 01803 605993
e. sales@roastandpost.com
Registered in England No. 4387161.
Registered Office As Above
VAT Reg. No: GB 791 3864 93