Mexican Lion Boy - NEW
Aroma & Tasting Notes
Through an Espresso Machine
Brewing through an espresso machine, the aroma is Chocolate with notes of Lemon and Almond. On tasting, Lemon with notes of Caramel upfront, with a beautiful Chocolate body which is complimented with a lingering Almond aftertaste.
Clean, clear and crisp flavour notes, with a creamy mouthfeel and velvety finish. Enjoy all day as an Espresso or Flat White to really enjoy the flavours of this truly special coffee!
Through a Filter Machine or Cafetiere
Brewed this way, the aroma is Chocolate upfront with hints of Lemon. On tasting, Lemon and Chocolate initially, Apple and Caramel through the body, and ending with a sweet finish.
Well balanced with a medium acidity, and an amazing sweetness and a longlasting aftertaste, with a clean mouthfeel. Works well all day, best served black with no sugar or milk.
More about where this coffee comes from….
This exceptional micro-lot hails from the highest reaches of the farm – which is actually three farms combined into one, under the name of Guadalupe Zaju. The section named 'Finca Chanjul' is one of the oldest parts of the farm and rides along a ridge at about 1,400 metres. The section is planted primarily under traditional varieties of coffee tree, such as Bourbon and Catuaí, and produces Guadalupe Zaju's premier lots.
The Soconusco region, where the farm is based, is one of Mexico's most famous coffee locales. Founded in 1890, the region was established by Porfirio Díaz (Mexico's then President) and Otto von Bismarck, who together collaborated to send 450 German families to an underdeveloped region near Tapachula, bordering Guatemala at Mexico's southern tip.
Diaz thought the region had great agricultural potential, but it was remote and lacked investment. Under the careful management of the German immigrants and with the great effort of local farmers and workers, Soconusco was transformed into a coffee powerhouse! Between 1895 and 1900, 11.5 million kg of coffee was harvested – some 70% of which went directly to Germany.
Guadalupe Zaju was taken over in 1945 by Hamburg-born businessman Hans Asmus Luethje and his wife. Their son Juan Luethje carried on the legacy. The farm was originally known simply as Zajú – named after the river that runs through it: Guadalupe was added only when the Virgin of Guadalupe icon was introduced to the farm's chapel. The Luethje family ran the farm for more than 50 years with dedication; however, in the latter part of that century, low coffee prices challenged the farm's economic viability. The farm was sold when coffee prices hit rock bottom in 2003 and today is owned by Eduardo 'Teddy' Esteve.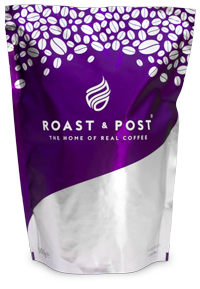 The Roast & Post Coffee Co. ®
Bridgeview House, Redhill Lane,
Elberton, Bristol,
South Glos. BS35 4AE. UK
t. 01454 417147
f. 01454 417774
e. sales@roastandpost.com
Registered in England No. 4387161.
Registered Office As Above
VAT Reg. No: GB 791 3864 93