Mexican El Jaguar - NEW
This coffee is Medium-Dark Roasted and can be brewed through an Espresso Machine or through a Filter/Cafetiere.
Aroma & Tasting Notes
Through an Espresso Machine
Brewing through an espresso machine, the aroma is Chocolate with notes of Roasted Nuts. On tasting, Chocolate upfront with a beautiful Roasted Nut body, and a lingering Caramel aftertaste.
Our thoughts.
Low acidity, medium bodied, with a buttery mouthfeel. Enjoy all day as an Espresso or Flat White to really enjoy the flavours of this truly special coffee!
Brewing ratio: 1:2
16 grams of coffee to 36 millilitres of water. Water temperature 93 degrees.
Through a Filter or Cafetiere
Brewed this way, the aroma is Chocolate upfront with hints of Caramel. On tasting, Chocolate initially, With a Roasted Nut & Chocolate body, and a Caramel aftertaste.
Our thoughts.
Well balanced with a low acidity, medium body & nice sweetness, with a thick mouthfeel. Works well all day, best served black with no sugar or milk.
Brewing ratio: 1:20
16 grams of coffee to 320 millilitres of water. Water temperature 92 degrees.
More about this coffee and where it comes from….
Located in the central part of Chiapas, this coffee comes from the high-altitude area of the Sierra Madre, bordering the biosphere reserve El Trifuno. This ecological region represents 30 percent of the flora in all of Chiapas territory.
The microclimate in this region creates a cloud forest, due the Soconuscu rainforest zone around the Novillero River. The weather is humid with lots of shade, cool conditions at night and excellent soil, which together create a perfect environment for the development of specialty coffee.
Our El Jaguar comes from a group of small producers and is harvested and processed by hand. After harvesting it is de-pulped, fermented and washed before being dried in the sun.
Exporter Por Mas Café is a collaborative effort between Exportadora de Café California, FIRA (a Federal Government Institution for agricultural credits), government institutions and various other sponsors.
The initiative aims to bring increased yields, innovative farming methods and more sustainable livelihoods to coffee farmers of all sizes. Por Mas Café works by offering training in modern farming techniques including disease control, access to high-yield and disease-resistant plants as well as access to fertilizer, certification, financing and education.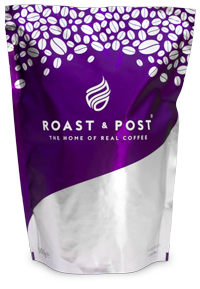 The Roast & Post Coffee Co. ®
Bridgeview House, Redhill Lane,
Elberton, Bristol,
South Glos. BS35 4AE. UK
t. 01454 417147
f. 01454 417774
e. sales@roastandpost.com
Registered in England No. 4387161.
Registered Office As Above
VAT Reg. No: GB 791 3864 93