Guatemala Finca Nueva Granada
This coffee is Medium-Dark Roasted and can be brewed through an Espresso Machine or through a Filter/Cafetiere.
Aroma & Tasting Notes
Through an Espresso Machine
Brewing through an espresso machine, the aroma is of intense Lemon with undertones of Cinnamon. On tasting, amazing citrus Lemon notes upfront, intense Dark Chocolate and Roasted Nuts through the body. Has a lasting Cinnamon Raisin aftertaste.
Our thoughts.
Superb Espresso or Flat White, great for early afternoon or after an evening meal
Brewing ratio: 1:2
18 grams of coffee to 40 millilitres of water. Water temperature 94 degrees.
Through a Filter or Cafetiere
Brewed this way, the aroma is Lemon with hints of Raisin. On tasting, Lemon initially which mellows into Dark Chocolate & Raisin through the body with hints of Cinnamon. Has a Roasted Nut finish.
Our thoughts.
Best as a straight black coffee with no milk or sugar. Good morning, noon or night.
Brewing ratio: 1:15
20 grams of coffee to 300 millilitres of water. Water temperature 92 degrees.
More about this coffee and where it comes from….
The highlands of Guatemala produce several of the world's finest and most distinctive coffees. Finca Nueva Granada, named after the last Arab Fortress in Europe, is a coffee farm situated in San Marcos, Guatemala. Coffee plants grow up to an altitude of c. 1500m nestled between two volcanos, Tajumulco and Tacana in volcanic ash soil.

San Marcos elevation at 7,868 feet (2,398 meters) has the highest rainfall pattern of the 8 coffee growing regions in Guatemala, reaching up to 200 inches. The seasonal rains come sooner than in other regions, producing earliest flowering. As in all of Guatemala's remote regions, most coffee is cultivated on farms with their own processing mills. Because of the unpredictability of rainfall during the harvest season, much of the coffee is pre-dried in the sun and finished in a dryer.
The coffee plants start their growing cycle in March / April and harvest generally begins in October. During this period the cherries ripen under shade until they are deep red in colour. The farm workers will pass through the coffee groves more than once, only selecting ripe cherries as they go. Once harvested, the coffee goes through a de-pulping process using the farm's own spring water plant. After grading, the coffee is then dried on patios and low heat dryers.

Nueva Granada is fully Rainforest Alliance certified. Further positive farm improvements such as an eco-mill (using 80% less water), waste water from the plant used as irrigation water (not returned to rivers), sustainable agriculture, health care facilities, nursery etc. are provided for the farm and its workers.
Click here to help decide which grind is best for you.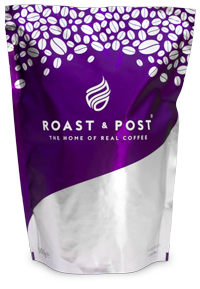 The Roast & Post Coffee Co. ®
Registered Office
7 Regent Street
Kingswood
Bristol
BS15 8JX
t. 01803 605993
e. sales@roastandpost.com
Registered in England No. 4387161.
Registered Office As Above
VAT Reg. No: GB 791 3864 93