We offer generous discounts if you order 2 or more 500g packs of coffee. This can be a mix of different coffees (excludes Gold Collection coffees).
Click here to find out more.
Ethiopian Birbirsa - NEW
This coffee is grown between 1800 and 2300 metres above sea level, in the Oromia regional state of Ethiopia near to the town of Agaro around 45kms from Jimma. The Oromia region is a renowned coffee region with decades of experience in Arabica coffee production. We source the coffee through the Kata Muduga Cooperative, which was founded in 2015 not only because the surrounding area is a fantastic coffee growing area, but also because the cooperative ensures 90% of the FOB price is returned to the producers. The remaining 10% is split equally between transport and warehousing costs and the operational costs of the cooperative. The General Manager of Kata Muduga Cooperative, Asnake Niget, has been part of the story from the beginning as a business advisor with Technoserve Coffee Initiative, a development project funded by Bill and Melinda Gates.
The coffee cherries are pre-sorted for quality, depulped mechanically, and then enter a fermentation tank where the remaining mucilage breaks down with the help of naturally occuring yeasts over a period of 40 to 50 hours which helps bring out the flavours. The coffee is then sun-dried for around 7 to 10 days to achieve the correct moisture content.
Dark Roasted, this coffee can be brewed as a Filter or Cafetiere, brewed through a Bean-to-Cup Machine or as an Espresso. The Taste profile is Lime Acidity , Floral with a Dark Chocolate aftertaste.
Click here to help decide which grind is best for you.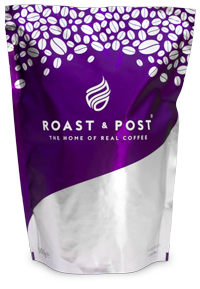 The Roast & Post Coffee Co. ®
Registered Office
7 Regent Street
Kingswood
Bristol
BS15 8JX
t. 01803 605993
e. sales@roastandpost.com
Registered in England No. 4387161.
Registered Office As Above
VAT Reg. No: GB 791 3864 93