We offer generous discounts if you order 2 or more 500g packs of coffee. This can be a mix of different coffees (excludes Gold Collection coffees).
Click here to find out more.
Ecuador Vilcabamba - NEW
This coffee is Medium-Dark Roasted and can be brewed through an Espresso Machine or through a Filter/Cafetiere.

Aroma & Tasting Notes

Through an Espresso Machine

Brewing through an espresso machine, the aroma is of Cocoa and Cherry. On tasting, Tangerine initially with a Cocoa and Cherry Body and a Buttery Cocoa aftertaste.

Our thoughts.

Mild acidity with a medium body and creamy mouthfeel. Enjoy all day as an Espresso or Flat White to really enjoy the flavours of this special coffee.

Brewing ratio: 1:2

16 grams of coffee to 32 millilitres of water. Water temperature 92 degrees.

Through a Filter or Cafetiere

Brewed this way, the aroma is Tangerine and Cocoa. On tasting, Tangerine upfront with Cocoa nib and hints of Cherry through the body and a Buttery Cocoa aftertaste.

Our thoughts.

Well balanced with a mild acidity and has an amazing sweetness. The aftertaste is lasting and has a clean mouthfeel.

Brewing ratio: 1:16

18 grams of coffee to 350 millilitres of water. Water temperature 93 degrees.

More about this coffee and where it comes from….

In the south of Ecuador, on an idyllic plateau surrounded by the mighty Andes Mountains, lies the small village of Vilcabamba. From Quechua, the language of the Inca, the name Vilcabamba translates as "Holy Valley".

T

his area of Ecuador is quite unique - There are few places in the western world where such a high proportion of the population grow as old as this, and enjoy the best of health at the same time! Generations of scientists and doctors have tried to solve the secret of longevity in Vilcabamba. Some believe that the water from the rivers Vilcabamba and Chamba have a medicinal influence, whilst others believe it has something to do with the incredibly stable and mild climate where temperatures are consistently between 18 and 22 degrees.

Located at around 1500 metres above sea level, the incredibly clean air is supposedly cleaned by a mystical plant named "Hilo". This plant provides a possible explanation for the extraordinary health and strength of the people who live here, but a definitive explanation however has never been found.

Visitors from all over the world come to enjoy this tranquil and serene location, to rest and forget the stresses of daily life. Spending time in this place allows them to soak up the harmony and joy of the people of Vilcabamba.

The cultivation of coffee has enjoyed a long tradition for the people of Vilcabamba. On the mountain slopes of this beautiful place, the small farmers of Vilcabamba grow the very best Arabica coffees. For them this drink is a small luxury.

During the harvest, between June and October, the families pick the ripe, red cherries and clean the beans in the water of the nearby mountain rivers. Then the coffee is slowly sun dried and hand sorted. Only small quantities of this coffee are produced each year, as it is cultivated primarily through manual labour and through family businesses producing this wonderful coffee.
Click here to help decide which grind is best for you.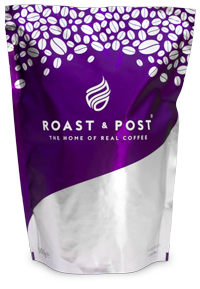 The Roast & Post Coffee Co. ®
Registered Office
7 Regent Street
Kingswood
Bristol
BS15 8JX
t. 01803 605993
e. sales@roastandpost.com
Registered in England No. 4387161.
Registered Office As Above
VAT Reg. No: GB 791 3864 93