We offer generous discounts if you order 2 or more 500g packs of coffee. This can be a mix of different coffees (excludes Gold Collection coffees).
Click here to find out more.
Dominican Republic Barahona AA
This is a delicious coffee with clean, crisp flavour notes of Caramel, Almonds, Sweet Vanilla and Cane Sugar, and is the best coffee we've had from the Dominican Republic in a long time! Medium-dark roasted, this coffee can be brewed both as an Espresso or as a Filter / Cafetiere.
As an Espresso
Brewing through an espresso machine, the aroma is Caramel with hints of Vanilla. On tasting, Caramel initially with an Almond and Sweet Vanilla body and a beautiful sweet Sugar Cane finish.
Overall, clean, clear and crisp flavour notes with a creamy mouthfeel and a velvety finish.
Enjoy as an Espresso, Americano or Flat White to really enjoy the flavours of this truly special coffee.
As a Filter / Cafetiere
Brewed this way, the aroma is Caramel with hints of Vanilla. On tasting, Caramel and Vanilla upfront with a sweet Cane Sugar Body with hints of Almonds, and a lovely warm Caramel aftertaste.
Superb flavours with medium acidity, the body is strong with an amazing sweetness. The aftertaste is lasting and has a clean mouthfeel.
Works well all day, best served black with no milk.
M
ore about the coffee and where it comes from….
The Dominican Republic produces between 350,000-500,000 sacks of arabica per year, however less than 20% of this volume is exported due to very high internal domestic coffee consumption. The country has a coffee culture stretching back over two centuries, and consumption is 3kg per-capita !
Dominican coffees are surprisingly diverse. The country's six growing regions - Cibao, Bani, Azua, Ocoa, Barahona and Juncalito - have been officially nominated by the government to better promote the individual profiles of the coffees from these distinct microclimates. However there may be as many as 25 distinct production zones around the island, centred on its four mountain ranges.
Most coffee on the island grows at between 600 and 1,450 metres above sea level. Given the extreme diversity of the island's microclimates and topography and the near constant humid conditions, coffee is picked almost all year round at one place or another on the island, although the peak harvest period takes place from November to May, peaking in April around the Semana Santa (Holy Week) festival.
Farms in the Dominican Republic are typically small – on average less than three hectares each – and much of the coffee is cultivated organically, though many farms are not officially certified. The majority is also shade-grown, often under a canopy of pine, macadamia and guava trees.
Barahona is a province located in the south west of the island, around three hours drive from the capital of the Dominican Republic Santo Domingo. Barahona is widely considered to be the finest producing region. The coffee is grown at high altitudes and is renowned for its rich flavour, heavier body and good acidity.
Click here to help decide which grind is best for you.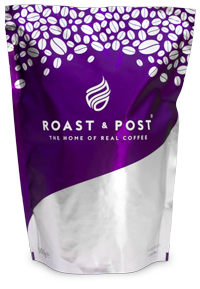 The Roast & Post Coffee Co. ®
Registered Office
7 Regent Street
Kingswood
Bristol
BS15 8JX
t. 01803 605993
e. sales@roastandpost.com
Registered in England No. 4387161.
Registered Office As Above
VAT Reg. No: GB 791 3864 93