Costa Rica Veranera
Aroma & Tasting Notes
Through an Espresso Machine
If you like a strong coffee, we do not recommend brewing this particular coffee in this way as this Medium roasted coffee makes a relatively 'light' espresso.
If however you do like a lighter espresso, brewed in this way the aroma is Dark Chocolate with subtle notes of Caramel and Orange. On tasting, Rich Dark Chocolate up front with hints of Orange and Caramel through the body, with an intense Biscuit aftertaste.
Makes a lovely light Latte or Cappuccino served all day.
Through a Filter or Cafetiere
Brewed this way, the aroma is of Sweet Chocolate with hints of Orange and Caramel. On tasting, Chocolate up front with a Caramel & Orange body with a lasting Biscuit finish.
A superbly well-balanced coffee with complex flavour notes. Great served with lunch or after dinner.
More about where this coffee comes from….
Grown in the Tarrazu mountain area of Costa Rica, the coffee grown in this valley benefits from the lush volcanic soils and the Pacific winds that caress the mountains, mixed with stable temperatures and abundant sunlight throughout the year, producing an ideal environment to grow coffee. At the top of the mountains where our coffee is grown, the same heights at which these farms overlap the clouds, a beautiful landscape and serene atmosphere is created for coffee cultivation.
The farms of this region belong to small, independent farmers whose old fashioned methods produce a coffee of outstanding quality. This coffee is produced by a selected group of coffee farmers on plantations that are well cared for.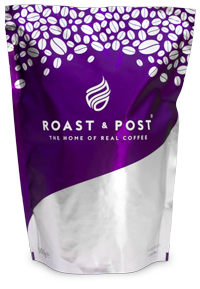 The Roast & Post Coffee Co. ®
Bridgeview House, Redhill Lane,
Elberton, Bristol,
South Glos. BS35 4AE. UK
t. 01454 417147
f. 01454 417774
e. sales@roastandpost.com
Registered in England No. 4387161.
Registered Office As Above
VAT Reg. No: GB 791 3864 93