Costa Rica Helsar De Zarcero
NEW SPECIALITY COFFEE – COSTA RICA HELSAR DE ZARCERO
This interestinng coffee is from Costa Rica and can be brewed both as an Espresso or a Filter / Cafetiere coffee.
Filter / Cafetiere
Brewed in a Filter machine or Cafetiere, the aroma is of Caramalised Sugar with a hint of chocolate. On tasting, you'll again be hit by an aroma of Praline initially, with hints of Pecan with a smooth Maple Syrup-like after taste. We think this is a well-balanced cup of coffee, great for all day drinking.
Espresso
Brewing through an espresso machine, you'll be hit by an aroma of Praline Chocolate upfront with distinct hints of Pecan nuts. The taste is of strong Praline flavour on the front of the palette, with Caramalised Sugar through the body, and a pleasant Pecan nut finish.
There is a great natural sweetness to this coffee, suitable for those who have a sweet tooth but who don't want to add sugar to their espresso. This coffee is also great served through steamed milk as a cortado or a flat white.
More about the coffee and where it comes from….
Ricardo Pérez Barrantes and brothers Marvin and Felipe Rodriguez established Helsar de Zarcero about 12 years ago. The mill began as a way for the three to process coffees from their own farms, and later evolved to become a service for other producers in the West Valley region to create their own micro lots. The micro mill is an essential part of increasing a producer's access to quality development and the specialty market.
Helsar functions like a family. The group of about 40 producers is a tight network. For the most part, each producer's lots are processed separately so that they may create micro lots to sell to buyers that consist of their coffee alone. Scheduled days and times are allotted to each producer to bring cherry to the Helsar mill to be processed. Their coffees are fully washed / wet processed.
We have chosen the coffee from Nereo Ramirez and Eliomar Lopez who have been farming coffee for more than a decade before working with Helsar. During the first trip to Costa Rica almost five years ago, Nereo's coffee stood out to us on the cupping table. The coffee always has a great sweetness and balance.
Nereo, his wife Elida and other members of their family pick all the coffee themselves instead of hiring outside help. He grows almost all Villa Sarchi variety, which is a Bourbon mutation that originated in Costa Rica.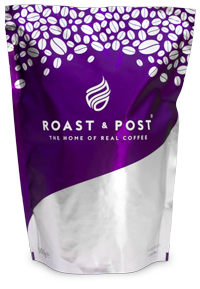 The Roast & Post Coffee Co. ®
Bridgeview House, Redhill Lane,
Elberton, Bristol,
South Glos. BS35 4AE. UK
t. 01454 417147
f. 01454 417774
e. sales@roastandpost.com
Registered in England No. 4387161.
Registered Office As Above
VAT Reg. No: GB 791 3864 93