Cup of Excellence - Sao Judas Tadeo Brazil - NEW
We're very excited to be able to offer this spectacular award-winning Brazilian coffee. This coffee won 16th place in the Cup of Excellence out of 24 finalists! There are only 29 boxes of this coffee available worldwide, and we are lucky enough to have acquired one of the 60kg boxes.
Medium to dark roasted, this coffee can be brewed using an espresso machine or a Filter / Cafetiere.
Aroma
Subtle Citrus fruits and floral Jasmine.
Tasting Notes
Beautiful Orange initially, with an amazing Creamy Honeycomb body, with a lasting sweetness at the back of your palate.
Our overall thoughts
Brewed using an espresso machine
Superb morning espresso to start your day. Most inviting served as a double espresso, through steamed milk as a flat white, or a cappuccino in an 8oz cup. The honeycomb and orange are enlivened through the milk. A truly breathtaking coffee.
Brewed using a Filter / Cafetiere
A beautiful bright coffee with complex flavour notes. Smooth and rich throughout, a surprising Brazilian coffee .
Recommended dose
Espresso: 18g of coffee extract 36 millilitres of espresso. Temp of water 93 degrees
Filter/Cafetiere: 20g of coffee to 320millilitres of water. Temp of water 92 degrees
More about the coffee and where it comes from….
Located in the Chapada Diamantina in the city of Piatã, Fazenda São Judas Tadeu is owned by Mr. Antônio Rigno, who has been a coffee producer for more than 29 years. This region is geographically advantaged, with a temperature that varies from 2° to 18°C in the winter, presenting quite favorable conditions to producing high-quality coffee beans.
The owner seeks to grow coffee sustainably: he gives workers technical guidance on the use of chemical pesticides and the correct disposal of these products' packaging in order to avoid harming the environment; he plants trees in the areas around the farm, and stimulates job-creation and income for local families.
Using his own harvest and post-harvest techniques the owner has won awards over the years, the most important being second place in the Cup of Excellence in 2014 and first place in 2015.
The harvest is done by hand, mostly by female workers. The coffee cherries are selectively harvested, in bowls, twice per day, and then taken by tractors to the pulping machine.
Drying is done on patios, the beans spread in layers of about 4 centimeters and raked several times per day. The dry coffee is separated in numbered lots, then taken to depots with ambient conditions recommended for coffee storage.
Great care is required to produce quality coffee at Fazenda São Judas Tadeu, from preparing the land appropriately, growing and planting seedlings, to processing; the entire process being followed and guided by specialized technicians from AGRIPEC, an agricultural support company.
Producer Antônio Rigno is always seeking to invest in appropriate infrastructure, such as pulpers, dryers and covered patios, for the final result to be the highest quality coffee possible.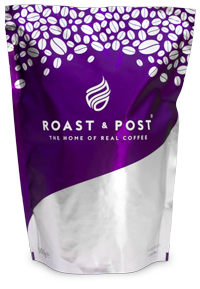 The Roast & Post Coffee Co. ®
Bridgeview House, Redhill Lane,
Elberton, Bristol,
South Glos. BS35 4AE. UK
t. 01454 417147
f. 01454 417774
e. sales@roastandpost.com
Registered in England No. 4387161.
Registered Office As Above
VAT Reg. No: GB 791 3864 93