Rwanda Coshaco
This African coffee is a beautifully rich sweet coffee, it is medium-dark roasted and can be brewed both as an Espresso or as a Filter / Cafetiere coffee.
Aroma
Golden Raisin, Vanilla (particularly when brewed as a Filter/Cafetiere), and undertones of Cocoa
Tasting Notes
Tangerine/Necatarine up front with hints of Golden Raisin, followed by undertones of Vanilla and Cocoa
Overall thoughts
A very rich, sweet coffee as a Filter / Cafetiere. Terrific as an afternoon espresso or as a fruity Latte/Cappuccino all day.
More about the coffee and where it comes from….
We're excited to be able to offer you for the first time our latest acquisition, Rwanda Coshaco. Rwanda is located in Central/Eastern Africa, and is bordered by the Democratic Republic of the Congo to the west, Uganda to the north, Tanzania to the east, and Burundi to the south. It lies a few degrees south of the equator.
The coffee is handpicked by the smallholder members and delivered to the Nyungwe washing station, which sits at a lofty 1700 meters above sea level in the district of Nyamasheke in Western Rwanda. The station serves some 546 smallholder coffee farmers who grow bourbon coffee at altitudes of between 1660 and 2100 meters above sea level. Some of the farmers are up to 10km from the station so 12 collection points have been established in order to reduce the transportation difficulties for the growers. This in turn also protects the quality of the freshly picked cherries by reducing the possibility of fermentation, before pulping at the station takes place.
The washed beans will then enter soaking tanks where they can sit under clean water for between 18 and 24 hours. The beans are transferred to drying tables where hand sorting for defects begin – unripe beans can be more visible whilst the beans are still damp. The first stage of drying can last around 6 hours before the beans are gathered and laid in thicker layers for the remaining 14-20 days (depending on weather and temperature). The dry parchment coffee is then rested for around 1 month before being milled, sorted for defects and packed for export.
The washing station was recently purchased by the Rwandan Trading Company who saw that the station was poorly managed and was operating well below its capacity, to detriment of local producers. RTC have ushered in some fantastic transformations to the station and the surrounding area. In 2013 the group established an affordable finance project, agricultural training programs for local producers, and interest-free education loans to its suppliers and their families.
The farmers receive two payments for their coffee; an initial payment when the cherry is delivered, followed by an end of season bonus when a further payment is made depending on the prices that have been achieved for their coffee.
Click here to help decide which grind is best for you.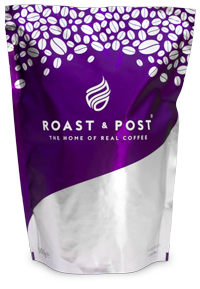 The Roast & Post Coffee Co. ®
Bridgeview House, Redhill Lane,
Elberton, Bristol,
South Glos. BS35 4AE. UK
t. 01454 417147
f. 01454 417774
e. sales@roastandpost.com
Registered in England No. 4387161.
Registered Office As Above
VAT Reg. No: GB 791 3864 93