Panama Geisha Los Lajones
Located on the slopes of Volcan Baru, this exceptional coffee has beautifully clear flavours with a superb body and is truly mouth-watering. Medium-dark roasted, this coffee can be brewed both as an Espresso or as a Filter / Cafetiere.
As an Espresso
Brewing through an espresso machine, the aroma is Tropical with Floral notes. On tasting, a superb clean Mandarin flavour initially, with Milk Chocolate through the body and a sweet syrupy finish – truly mouth-watering.
As a Filter / Cafetiere
Brewed this way, the aroma is Tropical Fruits with hints of Milk Chocolate and florals. On tasting, Mango initially with Smooth Milk Chocolate body with hints of Rose Flowers, and it has a lovely warm syrup-like aftertaste.
More about the coffee and where it comes from….
The Los Lajones Organic Estate is located on the slopes of Volcan Baru around 1750 – 2400 metres above sea level. The total size of the farm is 160 hectares, with about 40 hectares dedicated to farming. Currently, 35 hectares are cultivated with coffee trees, 21 are used for production and the remaining 14 hectares are devoted to young trees between 2-3 years old (mainly Geisha and Pacamara variety). The other varieties used on Los Lajones are Caturra and Catuai.
Before the farm was purchased by Graciano Cruz R. and his son in 1992, it was owned for many years by Alberto Rubio and used mainly for cattle pasture. In the first years after purchase, the lower parts of the property were slowly planted with coffee trees. Recently, the focus shifted to the upper parts, with Geisha variety being planted as high as 2100 metres.
The unique geological characteristics of the property, which is located in-between two lava flows, created a completely different and specific microclimate.
The rainy period is clearly defined, starting in May and lasting up to December. From January until April, the farm is constantly hit by wind currents coming from the Pacific Ocean, which collide with Bajareque (misty rain) arriving each afternoon from the Caribbean. This unique microclimate makes Los Lajones a perfectly dry spot for 5 months during the crop.
Los Lajones was the first organic certified coffee farm in Panama. All the farm operations are carried out with the environment in mind, and a strong desire to preserve the unique and exotic biodiversity of the whole area. One of the crucial aspects of Los Lajones is the zero water usage during coffee processing. All production is processed on-site using Honey and Natural methods and dried on raised African beds.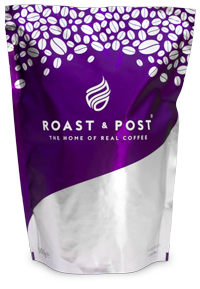 The Roast & Post Coffee Co. ®
Bridgeview House, Redhill Lane,
Elberton, Bristol,
South Glos. BS35 4AE. UK
t. 01454 417147
f. 01454 417774
e. sales@roastandpost.com
Registered in England No. 4387161.
Registered Office As Above
VAT Reg. No: GB 791 3864 93