Myanmar-Mandalay NGU Shweli - NEW
Aroma & Tasting Notes
Through an Espresso Machine
Brewed this way the aroma is of Caramel upfront with strong Roasted Peanut undertones. On tasting, beautiful Lime and Tropical Fruits upfront with a solid Caramel taste through the body, and a Roasted Peanut aftertaste.
Overall, delightful silky Tropical Fruit flavours, and would be great served at breakfast or after dinner.
Through a Filter Machine or Cafetiere
Brewed this way the aroma is of Lime initially, with hints of Roasted Peanuts. On tasting, Lime upfront with a Caramel body, with hints of Roasted Nuts and a Tropical Fruit aftertaste.
Overall Tropical, Sweet and Velvety, and would be great with a continental breakfast.
More about where this coffee comes from….
The Danu Hill Tribe are long-time residents of the Ywar Ngan Township which is split mainly between the Danu and Pa-o tribes, but also includes members of the Myazedi - a very old community of people from the region in which the Myazedi inscription was discovered in the late 1800's. The Myanmars Rosetta inscription tells the story of Prince Yazakumar and King Kyansittha in four languages, and enabled the deciphering of the written Pyu language.
Hundreds of farmers work on small plots between one and five acres each, tending to the same land that their ancestors did before them. As pesticides are forbidden in this township, its residents produce in an organic style, although it is not yet formally organic certified.
The cherries are hand-picked and then dry fermented for 18-24 hours before being washed, and spread on raised beds for 48 hours. After this, they are moved to patios until required moisture percentage has been reached. Once dried, the beans are then dry milled on site, before being sent on for consolidation and shipping.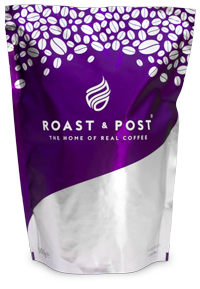 The Roast & Post Coffee Co. ®
Bridgeview House, Redhill Lane,
Elberton, Bristol,
South Glos. BS35 4AE. UK
t. 01454 417147
f. 01454 417774
e. sales@roastandpost.com
Registered in England No. 4387161.
Registered Office As Above
VAT Reg. No: GB 791 3864 93